You don't have to be a high roller to feel like one. Renting a cabana for the day is a great way to experience a little luxury. Surprisingly, it can also be quite an economical experience. At certain resorts, the base cost is eliminated if you simply rack up a tab with enough food and beverages. For example, if a cabana costs $500 but includes a food and beverage minimum, your party will simply have to spend at least $500 as the rental fee. If you don't spend up to that threshold, you'll automatically be billed that amount plus gratuity and tax. This can be easy to do with even a small group. A food and beverage minimum rate is not in effect for most properties, but some work this way. Be sure to ask when inquiring about a reservation.
Many cabanas come with a dedicated server and are pre-stocked with water and other basic snacks. A few even have TVs, which actually makes it a fun place to catch a game. Amenities, of course, vary based on location.
This list doesn't include every resort, more just a few select options I think have good value. You're going to find the least expensive rentals at lower-end properties. While they may not be the most luxurious, the service and experience still make them worthwhile. Rates will depend on the demand of that particular day. Use this as a guide, knowing actual prices may be different. Rates below are from "as low as" I've seen, which are typically weekdays. Here are a few choice options:
The Strip
$300 +
For a cheaper resort, Flamingo's pool outperforms. The Family Pool Cabana has a TV and can hold up to 12, which is double the capacity of many cabanas on the Strip at this price. I've seen reservations as low as $300 ($200 + $100 in minimum spend). All cabana and daybed rentals at Flamingo include a F&B minimum.
$300 +
NoMad can be a good option if you're into a more subdued experience. The pool isn't expansive, but likely more quiet than its neighbors. While it's not a true cabana, NoMad has what they refer to as a Gazebo. For our purposes, it's essentially a cabana since it has a privacy shade. The Gazebo can hold up to six people and has an approachable price of $300. This is a true rental fee. While most Caesars resorts have cabanas that include an F&B minimum, MGM resorts, spare MGM Grand and Cosmo are simple rental fees.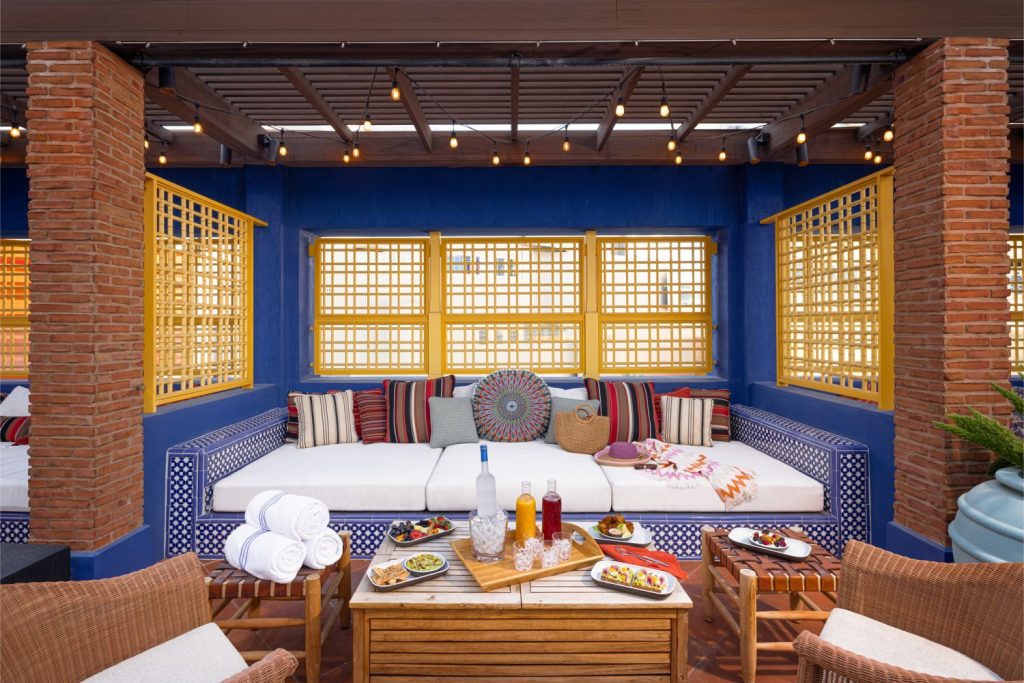 $300 +
Their standard poolside cabanas are fine, albeit small, but for an extra $150 you can double your capacity with their premium villas which have an indoor space, a great benefit in the middle of the summer. It's not the sexiest pool on the Strip, but a fun view of the Eiffel Tower and air conditioning make this worth considering.
I've seen their villas for as low as $450 ($300 rental fee + $150 F&B minimum).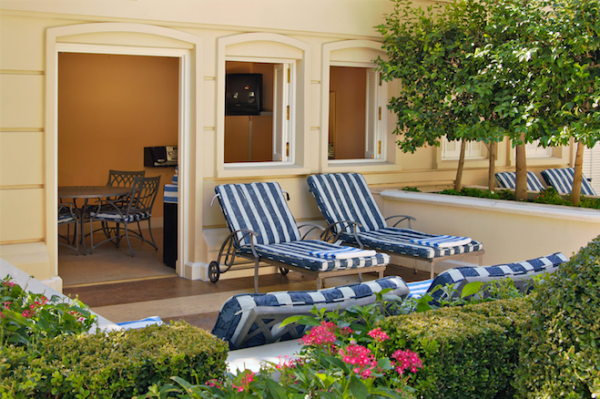 $400+
Sahara has two pools open for the 2022 season, Alexandria and Azilo. As of this writing, their other rooftop pool, Retro, is closed. Azilo is a compelling option if you're a sports fan. Its large screens make it a potential alternative to downtown's heralded Stadium Swim at Circa. But unlike Stadium Swim, Azilo doesn't cost four figures to rent. Weekday prices can be as low as $400. At Azilo, you pay a 20% deposit upfront then the rest is an F&B minimum. Cabanas can hold up to 10 guests). Azilo does have a more upbeat, clubby, but it's a great value and worth a trip up north.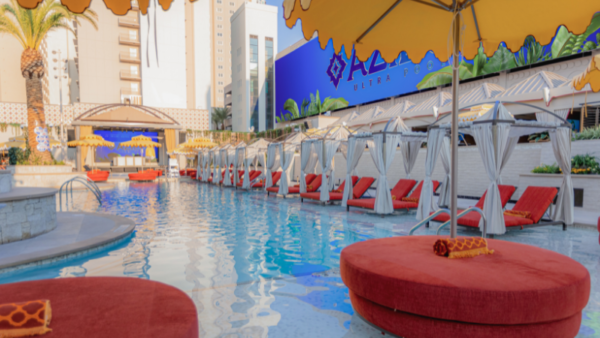 Downtown
$300 +
Citrus at Downtown Grand offers a chill atmosphere at an affordable price. Cabanas are good for up to 8 people and include the food and beverage minimum. The menu is limited, but the bar stocks a decent beer selection. If you're looking for a quiet day away from the hustle and bustle, this is your spot.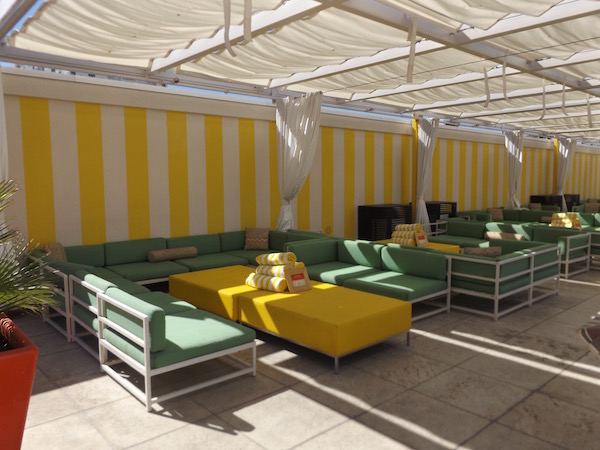 $125 +
Another simple, but clean and calm space downtown. The true rental fee is $50 plus a $75 food and beverage minimum on weekdays. The cabanas can fit up to 6, so it's not going to be difficult to hit that number. Each cabana has a TV, which is how it differs from Downtown Grand. This is one of the better values in the valley.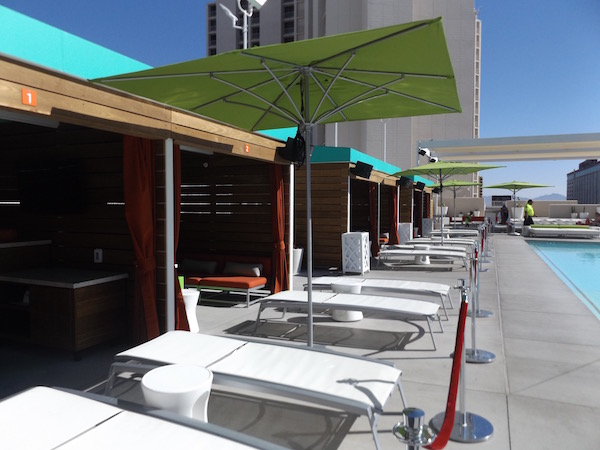 ---
Be sure to call and ask regarding cabana pricing and food and beverage policies. These prices are subject to change based on demand. Most cabana rentals are forfeited during the late morning hours if the original renters don't show, around 11 am or noon. If you're bold enough, you may be able to negotiate a lower price the day of if there is availability.
---
I provided prices for most Vegas cabana rentals in my members-only newsletter, along with what I believe to be the best value cabana in town. If you want that and other exclusive Vegas content, consider supporting the site with a $3 monthly subscription: