You don't have to be a high roller to feel like one. Renting a cabana for the day is a great way to experience a little luxury. Luxury at a modest price is what I'm all about. Surprisingly, cabanas can also be quite an economical experience.
Food and beverage minimums explained
At certain resorts, the base cost is eliminated if you simply rack up a tab with enough food and beverages. For example, if a cabana costs $500 but includes a food and beverage minimum, your party will simply have to spend at least $500 as the rental fee. If you don't spend up to that threshold, you'll automatically be billed that amount plus gratuity and tax. This can be easy to do with even a small group. A food and beverage minimum rate is not in effect for most properties, but some work this way.
What to expect with a cabana
Many cabanas come with a dedicated server and are pre-stocked with water and other basic snacks. A few even have TVs, which actually makes it a fun place to catch a game. Amenities, of course, vary based on location.
Don't wait to order until you're hungry or thirsty. Servers work their tail's off and usually have to cover a wide area of the pool, so it can take time to get your order in and delivered. But if you're patient and pleasant, you'll be well taken care of.
Beware of cabana vultures. It's rare, but on occasion, some groups of young lads or ladies may try to befriend cabana fortunate groups and charge drinks to their tab, only to skip out on their part of the bill. Good servers will look out for this.
Best value cabanas in Vegas
This list doesn't include every resort, more just a few select options I think have good value. You're going to find the least expensive rentals at lower-end properties. While they may not be the most luxurious, the service and experience still make them worthwhile. Rates will depend on demand. Use this as a guide, knowing actual prices may be different. The prices listed below are the lowest I saw by checking a random smattering of dates. You may be able to find lower. I'd love to know if you do.
Here are my favorites for 2023:
BLVD Pool $600
Chelsea $500
Both Chelsea and BLVD pool cabanas have food and beverage minimums in place of rental fees. Because of this, accompanied by its location and vibe, Cosmo is my choice for the best value cabana experience for the second year in a row. If you want the true upbeat atmosphere of the Cosmo, go with the BLVD Pool, but stay away from the upper deck cabanas. Those on the first level are more expensive, but worth it for pool proximity, especially in the summer. For a more laid-back vibe and easier pool access, I'd go with any cabana at the Chelsea for about the same price. 
$500
Sahara's Azilo Ultra Pool is a worthy alternative to your standard, high-priced day club. It's like public access day club. Their rental fees, from bungalows to lilypads are food and beverage minimums. This is a great value if you don't mind the trek to the north end of the Strip. Maybe just bring your bags on the monorail.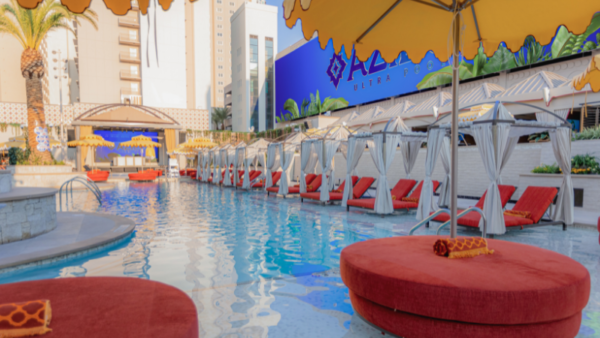 $650
The only resort in the MGM family with food and beverage minimums built into the price, though it's only 50%, a change instituted in 2022. Half the fee you see when booking is a flat reservation fee, the other is a minimum in spend you have to hit. MGM Grand is slowly sinking into pool obscurity as the pool area falls into disrepair. If it gets a facelift, it would be tops with Cosmo thanks almost entirely to its lazy river.
$250
The Linq's pool is called Influence, which is great to me. Relaxation cabanas can be reserved for as low as $150 plus a $100 food and beverage minimum.
$175
An old-school hotel with an old-school pool to match. It may not be the sexiest on the block, but weekday rentals are as low as $175. The rental includes 8 bottles of water and a fruit plate as well.
$125
A simple pool complex, but really great if you're on a budget. Plaza offers fixed pricing for weekdays, weekends, and "holidays". Weekday cabanas can be had for $125. $50 acts as a rental fee with the remaining $75 acting as a food and beverage credit on your bill.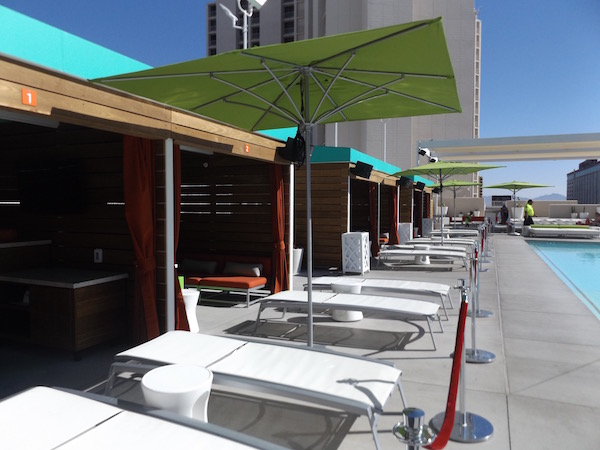 $350
Long been one of my favorites. It's best if you're downtown and have a really large group—think 10+. For the 2023 pool season, they no longer do a full food and beverage minimum. Now they require a deposit and an additional food and beverage minimum to meet. For example, their medium cabana requires a $150 reservation fee with a $100 deposit and an additional $200 minimum spend. Still, $350 with a $200 credit is a good price for a cabana. 
$1000
Stadium Swim is unique not only because it caters to sports fans but for the diversity of its reservable spaces. You have standard daybeds and cabanas, but also boxes and owner's suites. All of Stadium Swim's reservations are food and beverage minimums, which makes it an attractive pool, even if the rates are relatively high. You can get upper and lower cabanas for $1000 during weekdays, with the owner's suites, which has a capacity of 25, for $1500. Quite a good deal on the right day. Make sure to look at the map or call before making your reservation to inquire about sun exposure. My main beef with Stadium Swim is that there isn't a lot of shade, so not all daybeds or boxes will offer a respite from the heat. 
$365
The Tank, baby. Prices have come down in recent years for one of Vegas' most dynamic pools. Swim with sharks, chill with friends. If you want to enjoy the Golden Nugget pool without a reservation, prepare to feel like a sardine. A cabana goes a long way here. On top of your reservation fee is a food and beverage minimum. The lowest price I found was $265 for a Tank Cabana reservation with a $100 food and beverage minimum added on. $100 is easily doable for 6 guests. Their gazebos, though not traditional cabanas, still offer some shade at a lower cost. 
Other pool considerations:
If you're solo or in a couple, daybed reservations tend to follow the food and beverage minimum standards their cabanas do at each resort. Obviously, daybeds will be much cheaper and still offer some shade and a server. It's also worth considering Red Rock or Green Valley Ranch as inexpensive options if you're off-Strip. Both are beautiful resorts with pools to match and their cabanas and daybeds can be affordable.
Best Vegas pool for families
$500
Resorts World has a dedicated family pool with cabanas. Reservation fees for cabanas at Resorts World are ½ reservation fee, ½ food and beverage minimum. I quite like the Resorts World pool complex. If you have kids in tow and need an area for them to splash around, it's a good resort to check out. 
There's lots of talk about nickel and diming in Las Vegas, but you can still find value. You just need to know where to look. If you want to spend the day sipping in the shade, any of the pools listed above should serve you well. If you have a favorite, let me know in the comments.
Feature photo: Resorts World Cabana Pool cabana