A big thanks to me for finding this and sharing it. You need to be a Genting Rewards member and, from reports sent back to me, you need to have at least 25 Genting Rewards points already. This is labeled as a "New Member" reward.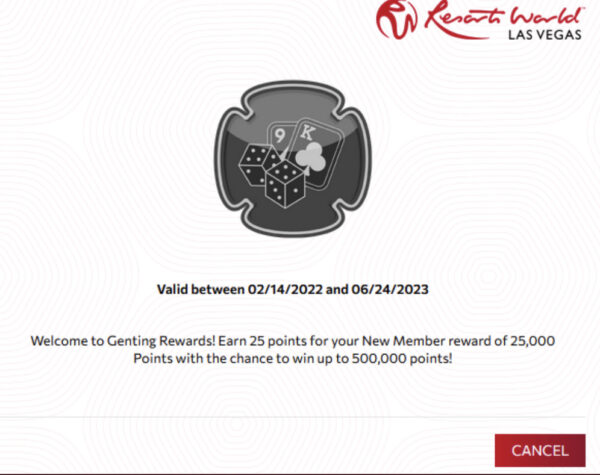 If you log into your Genting Rewards account you'll see a tab labeled "Badges" at the top. If you click on the top left badge and you're eligible, it should trigger a big wheel with a minimum prize of 25,000 points.

Genting Rewards points earned can be used immediately for gambling or resort credit, according to Resorts World. From the dates on the confirmation, you have until June 24, 2023 to use your points.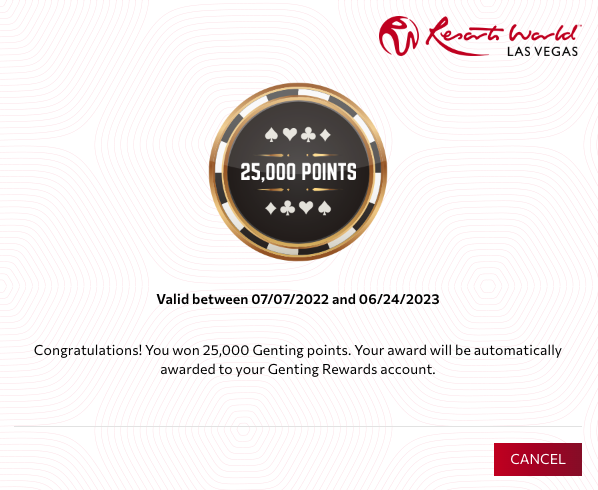 You can use your free $25 or more to check out their sexy lounge, Gatsby's, which unfortunately doesn't comp bartop gambling. This is according to a first-hand account from vloggers The Coin Show, which they shared in a recent vlog. Despite that big miss by Resorts World, they're still a contender for best comped video poker drinks in Vegas.
I unlocked $25, as have many others thanks to my intrepid reporting, though I've seen others win as high as 35,000 points. They have my PayPal and still haven't tipped me yet. Shame.
Let me know if this works for you and if you win something sizable.