It had been three years since I felt that excitement of seeing the strip on approach. My penchant for planning never faded. But worldly and personal circumstances kept me away.
My wife joined me on our first extended trip away from our son. She was in town for three nights. Me for four. Our first stop was the Chicago O'Hare United Club.
United Club, Chicago O'Hare
I've been sitting on my United Explorer card for a while. Its $95 annual fee includes two free lounge passes. This was probably the worst time to use the passes. The terminal wasn't crowded. We had under an hour until boarding time. And since we were sitting up front (NBD) and getting a meal, we didn't need breakfast. Nevertheless, we persisted.
We passed through the famous neon to our concourse, had a cup of coffee, and enjoyed some quiet time before heading to a city full of frenzy.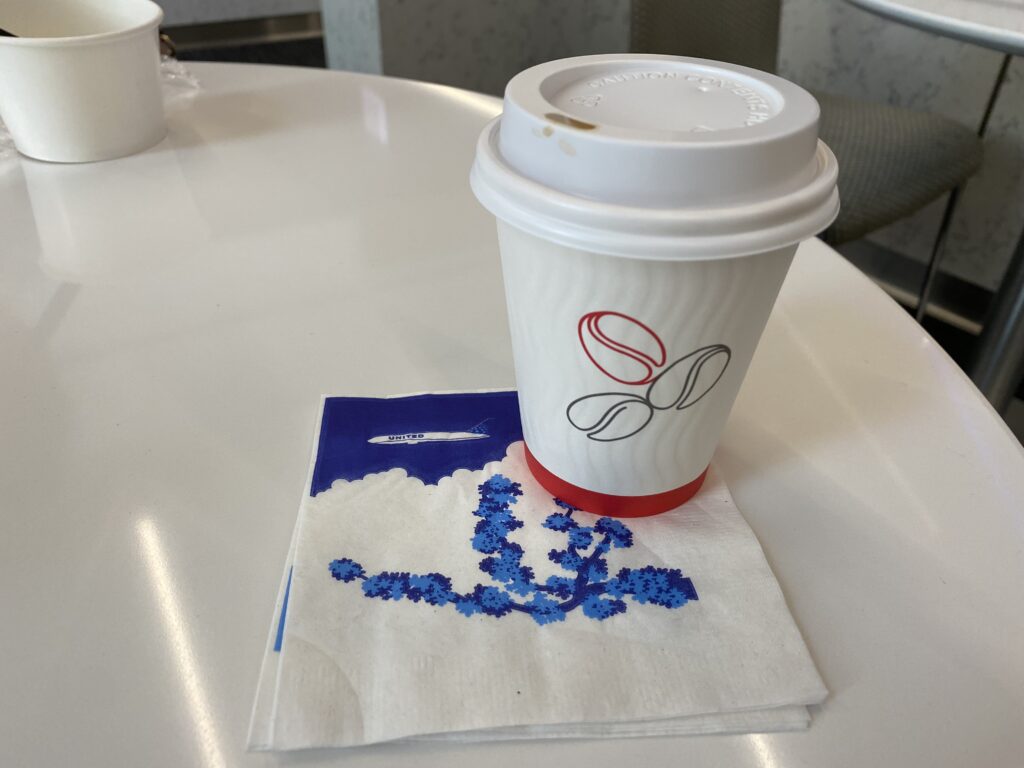 We sat up front thanks to points earned on the Chase Sapphire Reserve card. There are more sophisticated and savvy points and miles hobbyists than me. But I like to keep things easy. Despite its high annual fee, I like the simplicity of being able to book flights at 1.5X through the Chase portal. It's how I prefer to book domestic first class without the hassle of point transfers or searching for partner awards. Am I leaving points on the table? Sure. But for me, basic is best.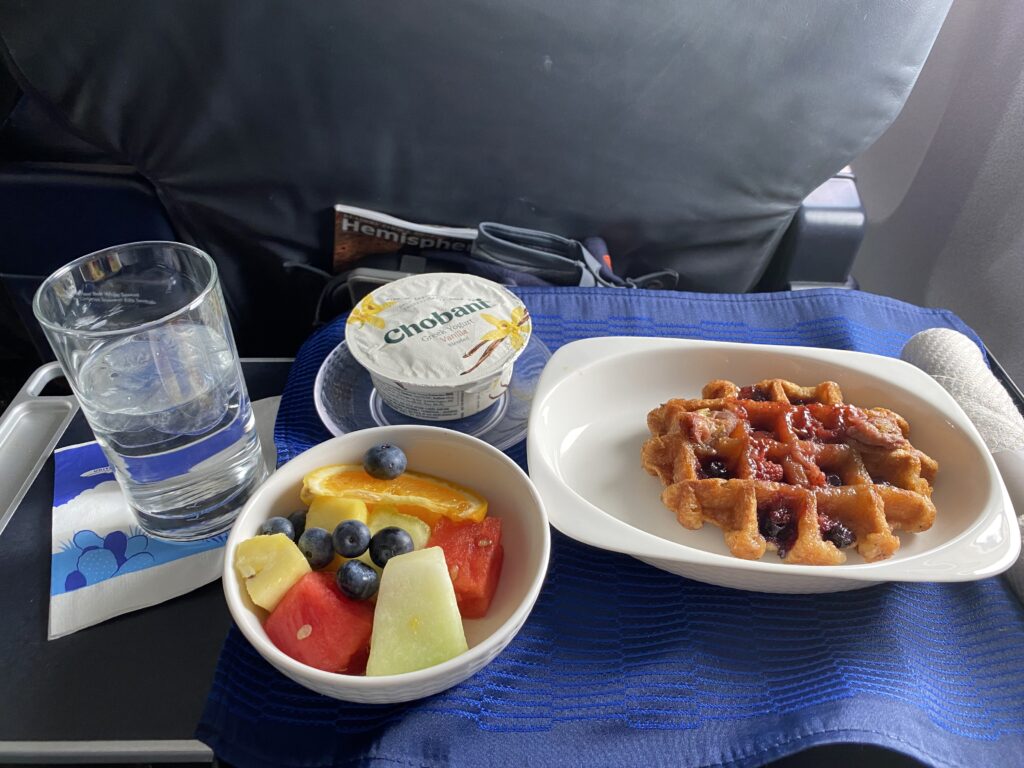 Our flight was comfortable and uneventful. Thanks, United.
After grabbing our bags, I took a peek at the outside cab line. There were no customers waiting and a long line of cabs ready, so we hopped in one. For much of the trip, when we had to, we used cabs. For this early fall, mostly weekday trip, there were cabs aplenty and prices were fair. Often, it was the easier, faster option.
Resorts World
Note: I'll have in-depth hotel reviews coming out later.
I was enamored with the Crockfords lobby when I arrived. A beautiful bar on the right is mirrored by the main desk. White stone walls and columns are beset by jade marble. It's a tranquil and beautiful welcome to the resort. This is seemingly needed to pacify guests as they wait for a front desk staff that is perpetually understaffed.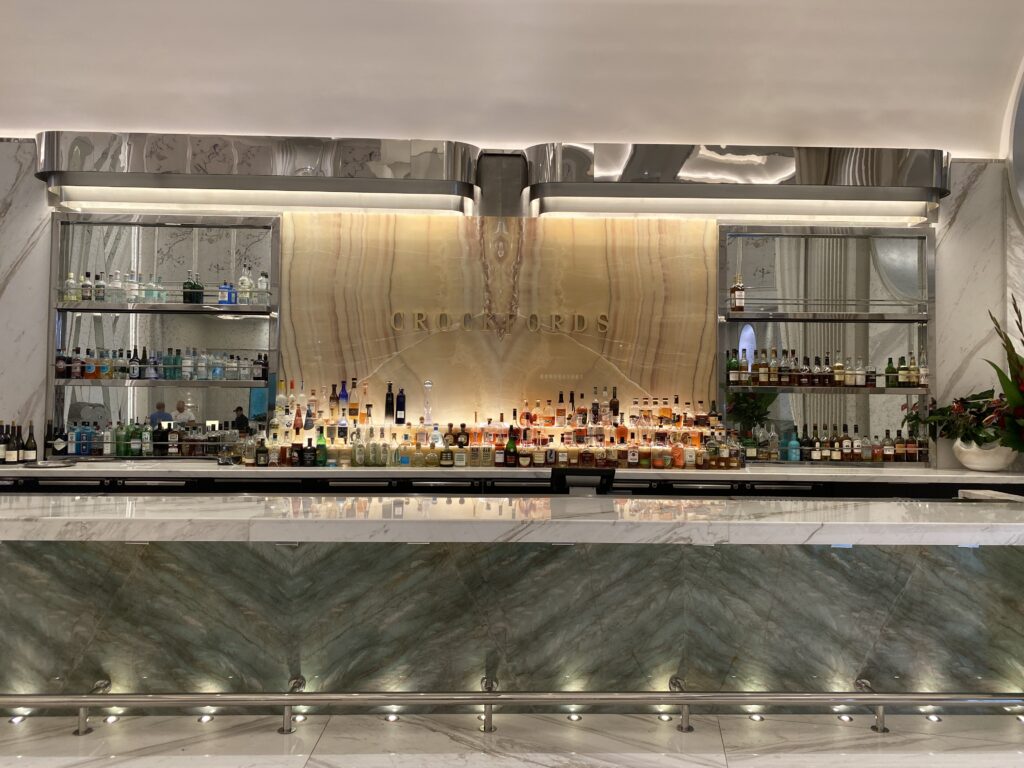 We waited maybe 15 minutes for our turn with only a few other guests in front of us. I have no real qualms with waiting, but it was the least efficient check-in of the trip. I booked the room using the Fine Hotels and Resorts portal with my overly-priced AMEX Platinum card (I'm ditching it this year). One of the benefits is a noon check-in when available. We got to Crockfords around 1, but our room wasn't ready. No bother. We dropped off our bags and explored for a bit.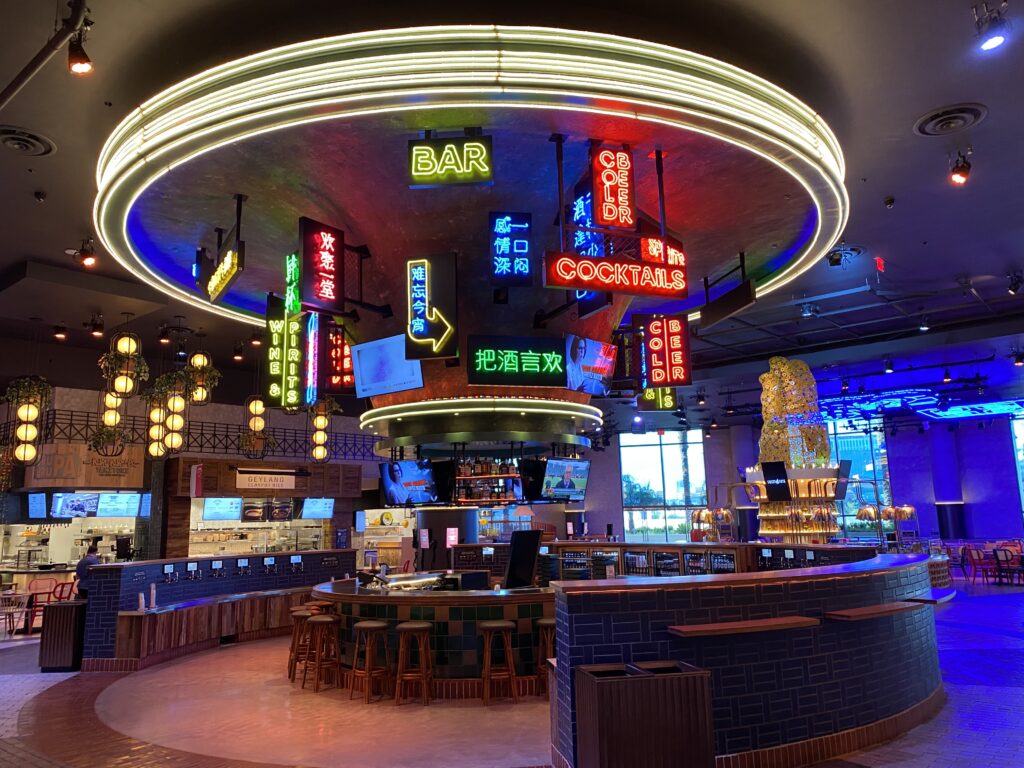 One thing Resorts World does better than any other hotel in Vegas is it provides an abundance of fast, casual restaurants, or booths, rather. Almost no upscale resorts have more than one and the mid and lower-tier hotels that make this a priority reflect what you'd find in a mall food court. I didn't fly all this way to get a Nathan's hot dog, thank you very much Luxor. I grabbed some dumplings before we sauntered to the high-limit bar for a couple of drinks.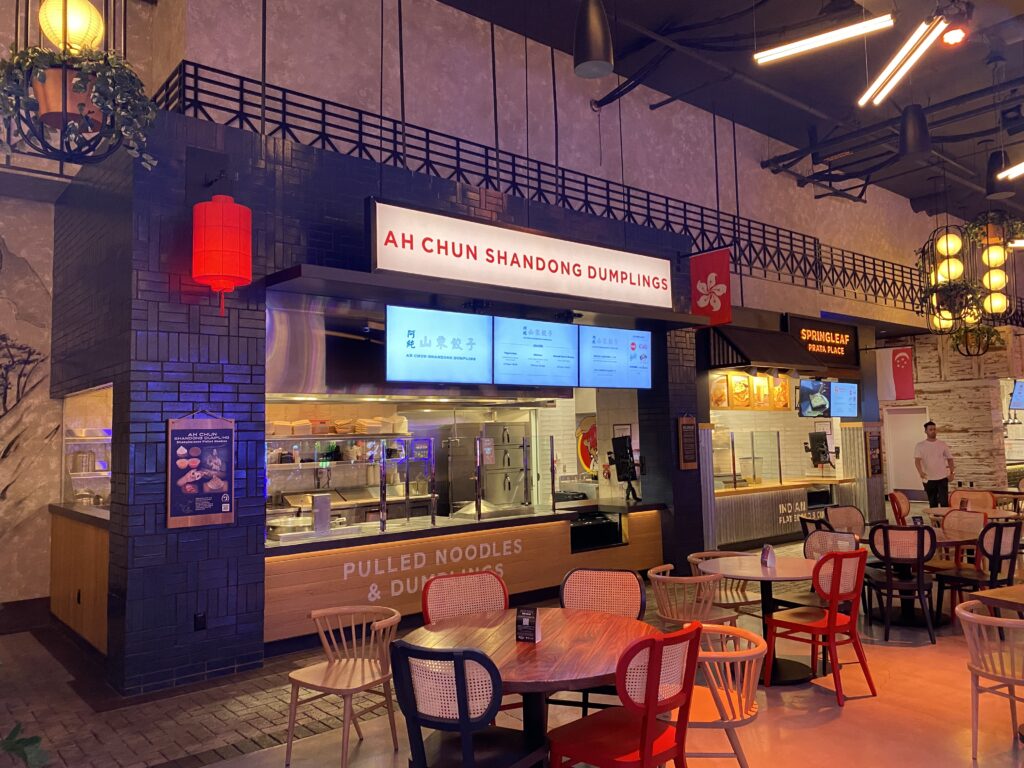 I'm still determining how far I can push my alcohol intake with my new medication. I've been on the conservative side lately, usually only having one or two drinks in a day when I actually feel like drinking. That's why I was pleasantly fortunate to find more mocktails pop up on bar menus. The high-limit bar had two non-alcoholic specials. I had both their Lady In Red and Almond Joy. The former was a tad too sweet for my liking, but this is a common complaint for me with mocktails. The Almond Joy hit me right, especially as I could use a pick-me-up being in the middle of an already long day.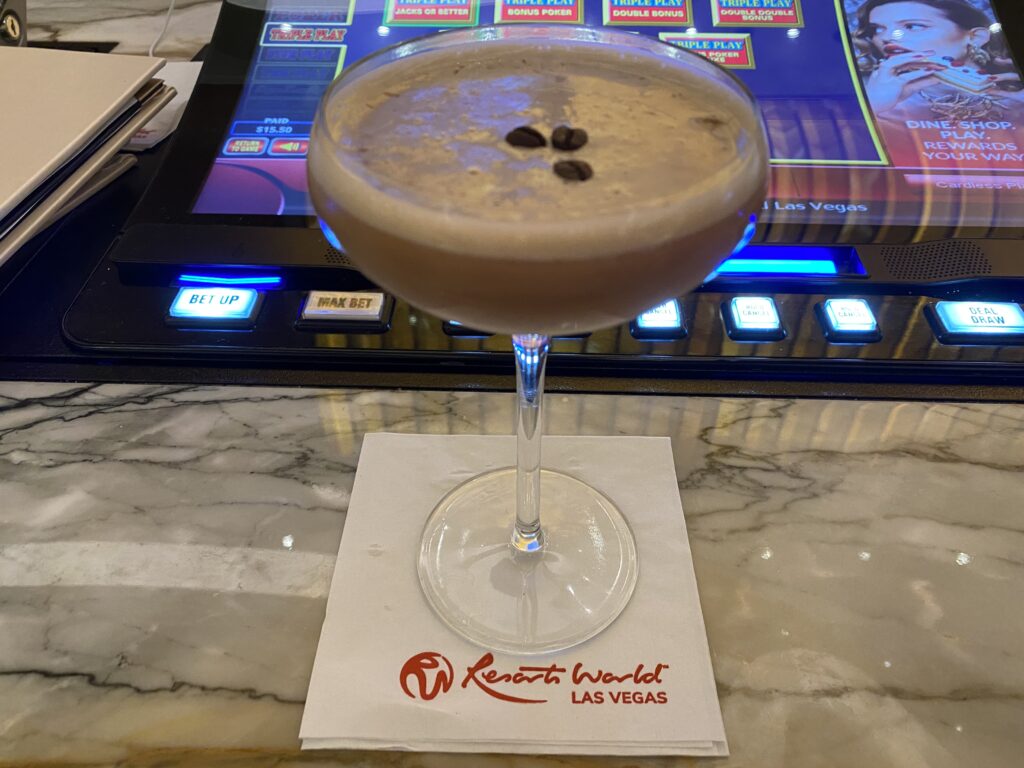 The casino passed the vibe check for me. It's easy to navigate, clean, upbeat, and not too smokey. To get to the main floor from the Crockfords lobby, you have to go through their high-limit and baccarat rooms which are serene and lovely. Until you hit the casino, you're surrounded by bright marble.
My only gambling at Resorts World was limited to a few sports bets and quarter video poker at the center bar, which is the real gambling find of the trip. If you play at least $1 per hand at video poker, they comp any cocktail on the menu, which included their signature Genting Old Fashioned, which is otherwise priced at $24. A real treat for cheapskates looking for top-quality indulgences.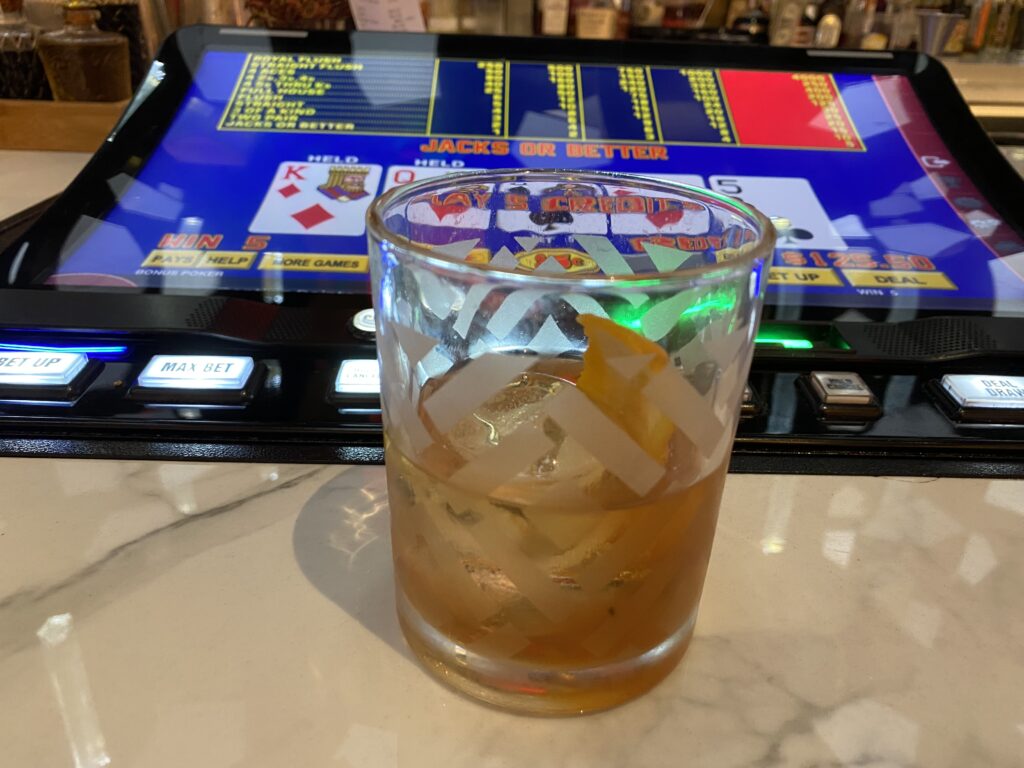 Let's get to the room, which we eventually did that afternoon after a fair bit of moseying. We had the basic Crockfords room with a mostly Strip view. This is a fine hotel room. It doesn't scream luxury, though it has the trappings. The large, white marble and porcelain bathroom tiles prove it's a newly built resort. The textiles, patterns, and design suit the layout well. But it's not bold. Of the three hotels under the Vegas Resorts World umbrella, I fancy the palette of Crockfords the best. However, the basic Hilton room may be the best value.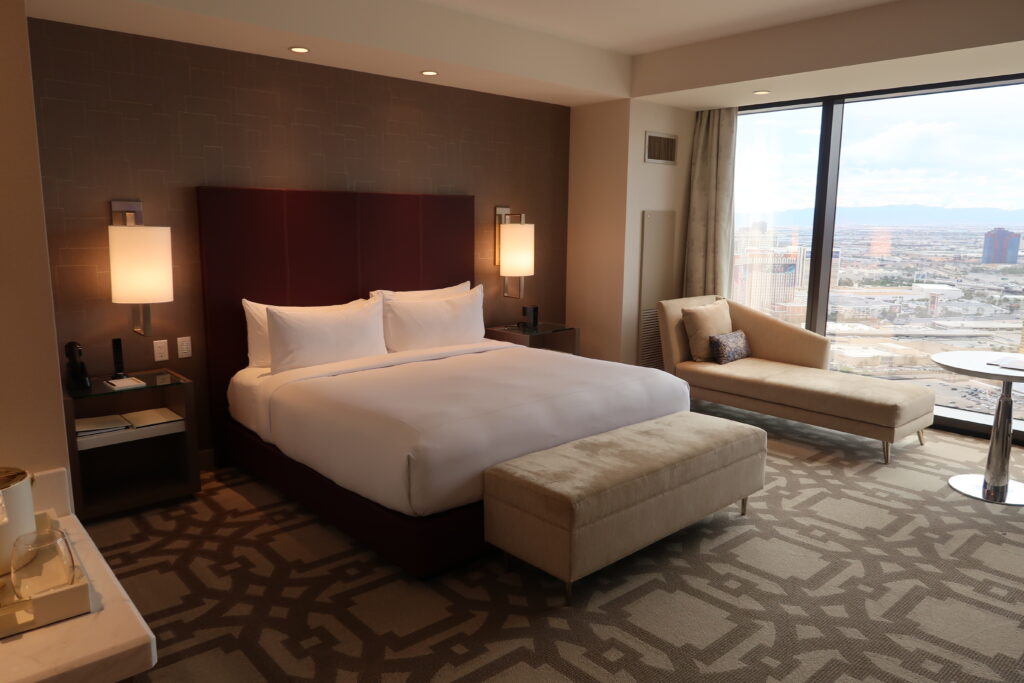 Zuma, Cosmopolitan
After cleaning ourselves up, which my wife does remarkably better than me, we met with our friends Taylor and Tara at Zuma at Cosmo. Zuma bills itself as high-end and contemporary. This really means expensive. When it comes to the rolls, I'd put my favorite local sushi restaurant up against Zuma. Cosmo is sexy and Zuma is "contemporary". Yet, I saw little creativity in their sushi. They used much of their inventiveness on the menu copy.
My wife and I were more hungry than Taylor and Tara, so we thought it would be fun to try the "omakase", which is a chef's curated platter of signature ($138) or premium ($168) rolls. For this selection, the menu reads as follows:
"Price per person, only available as a choice for the entire table minimum of 2 guests"
My wife and I were sitting on one side of the table and asked, since it's a minimum of 2 guests, if we could do it. The waitress politely said we couldn't. I struggle to find a good reason why the restaurant couldn't accommodate this. Though I can't fault the waitress for not acquiescing; it's in writing. The other peculiarity was that the waitress wouldn't allow each couple to have their own bill for their own menu choices. We had to split the check down in the middle. With Venmo, Zelle, and the like, this is a non-issue, but another quirk to an already odd meal.
If you're going to go, ignore the sushi and order off of their meat menu. The American Wagyu ($54), which is 10 oz of skirt steak, was a delight. My wife and I added it to our order after seeing it delivered to T&T.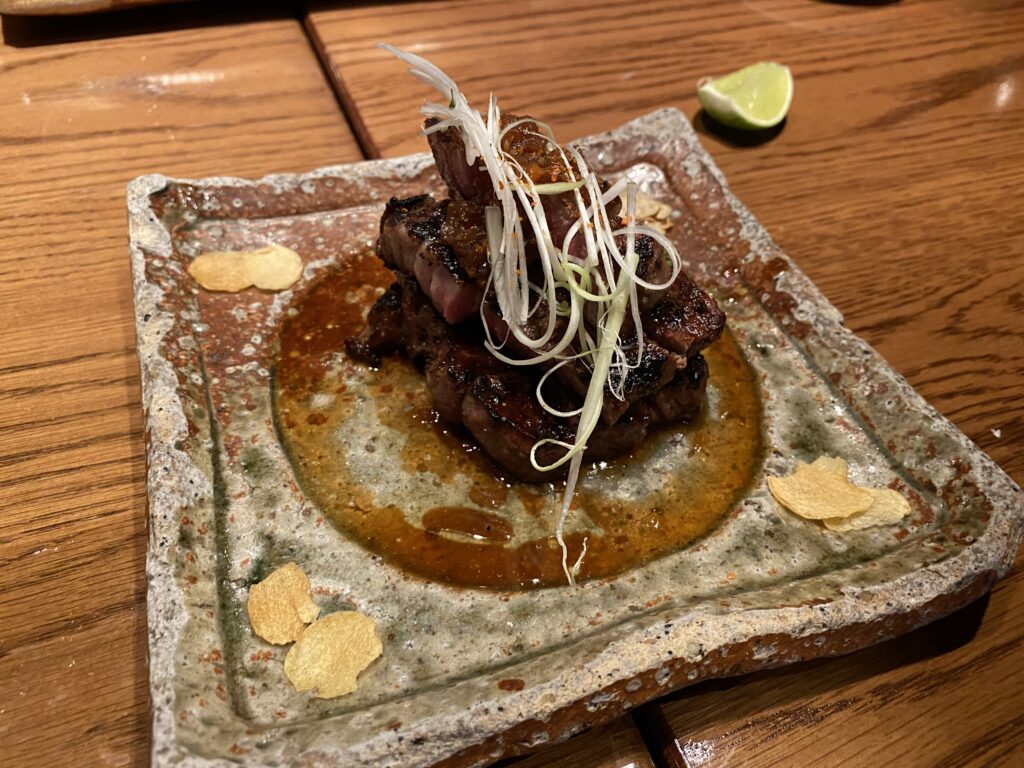 I hope this doesn't sound like we had an ill time, because we enjoyed ourselves immensely. It was great catching up with T&T and, for once, showing someone in the Vegas community that my wife actually does exist, unlike that girlfriend from Canada I told everyone I had while in high school. After our expensive, contemporary meal, we settled in for a round at Chandelier and continued our chat with a side of people watching to end the night.
Resorts World cabana
It was the first Sunday of the NFL weekend. I started off with a bang, winning my first bet of the season (go Bears)—I've since gone 2-15. I watched that first winning bet in a Resorts World cabana. Any cabana with a TV is a worthy option for football fans if you're in town early in the season and need a place to watch a game or series of games. Of course, drink and food prices were high, service was a bit slow and my dad bod wasn't exactly ready for its summer premiere, but I had a good time.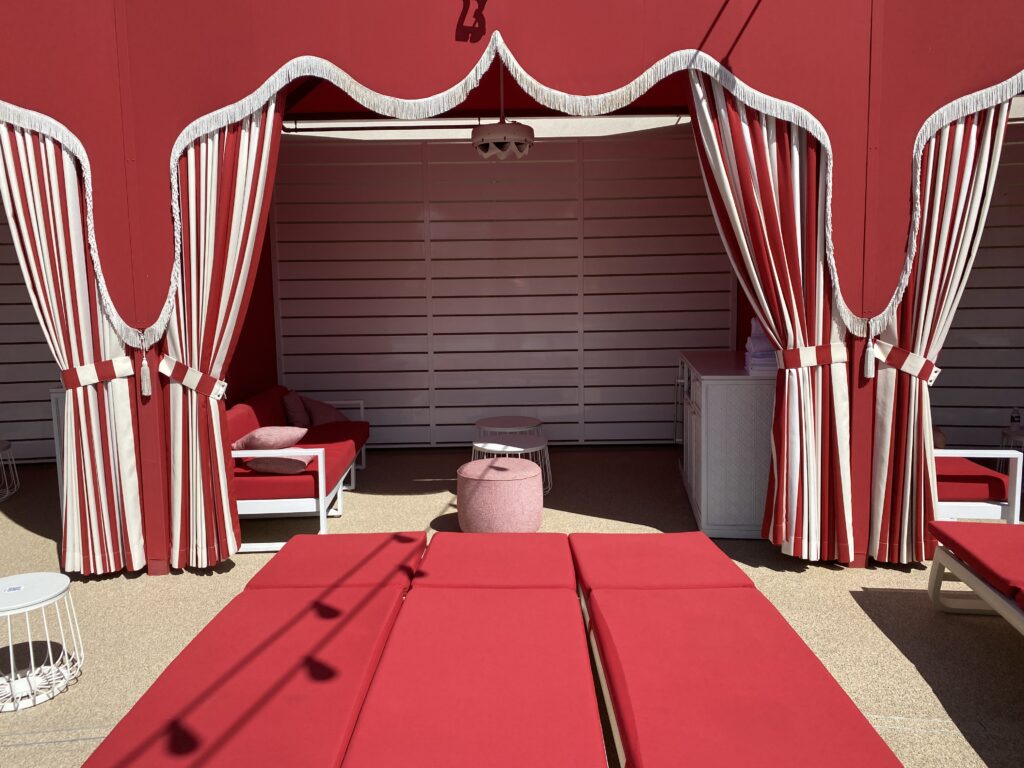 Resorts World took care to build a pool complex for a variety of tastes, including an area for families. It likely won't get a lot of mentions in Vegas forums or online groups, but if you're looking for a cabana or new pool to check out, keep it on your shortlist.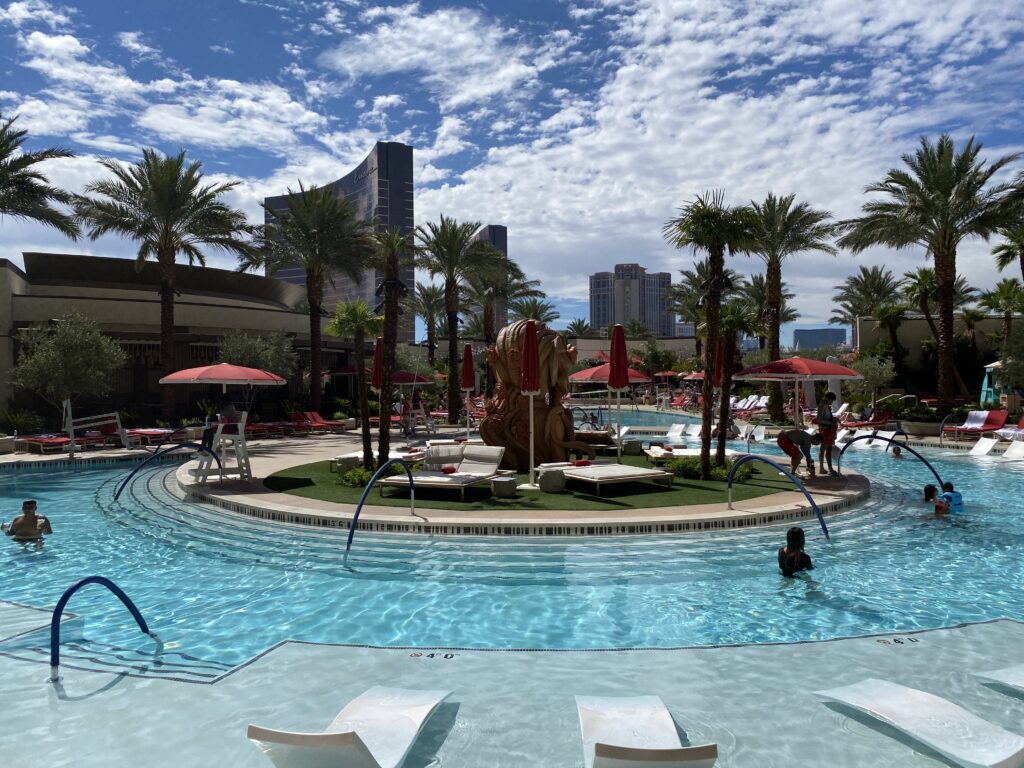 Bellagio
"I'm worried I stayed here 10 years too late", I said to my wife as we sat at a rail table at Petrossian, perhaps the best people-watching spot in town. Bellagio is a legacy resort. It's rested on that legacy for decades. It's been my aspirational hotel since I was a teen. Bellagio's best days may be behind it. Yet, the faux Lake Como still grabs at me. And despite the disappearance of the original awnings and a casino full of conventioneers, this still is the Vegas I wanted and the place I wanted it at.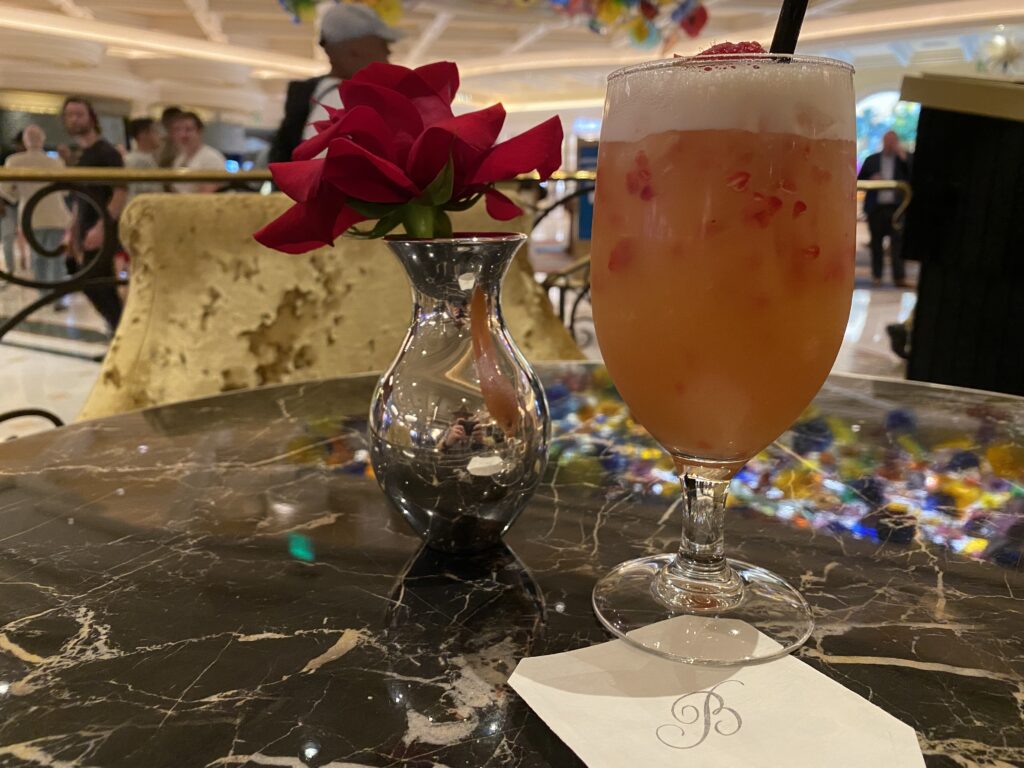 Service still shines at Bellagio and even though we couldn't secure a meaningful room upgrade and the previous tenants left some remnants on the shower soap, our mostly updated room with a fountain view was a wonderful treat in the middle of our trip.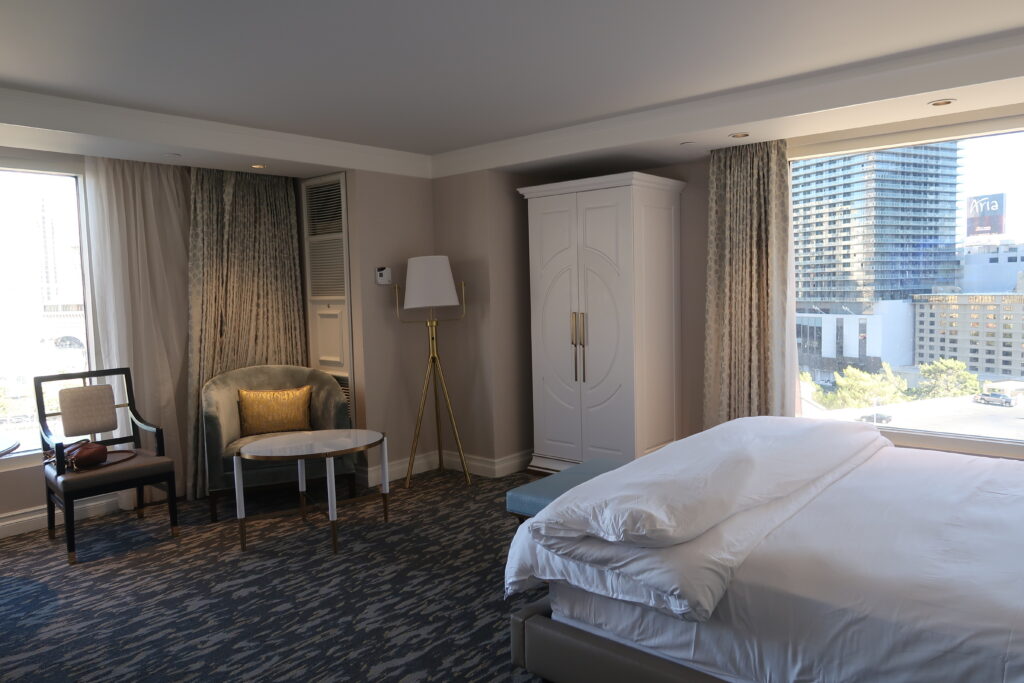 Our corner room was our home for the next two nights. After dropping off our bags, we had a couple of hours to wander the casino floor, shower, and head to dinner for a more impressive view.
Picasso
Pablo's pricey picturesque panorama. My wife and I wanted to do one blowout meal, this essentially being our first trip away since our son was born. I knew what I wanted: Outdoor seating as the sun was setting. We booked months in advance and I used an online almanac to figure out when the sun would be setting in September. It's one of my better Vegas planning moments. It worked perfectly.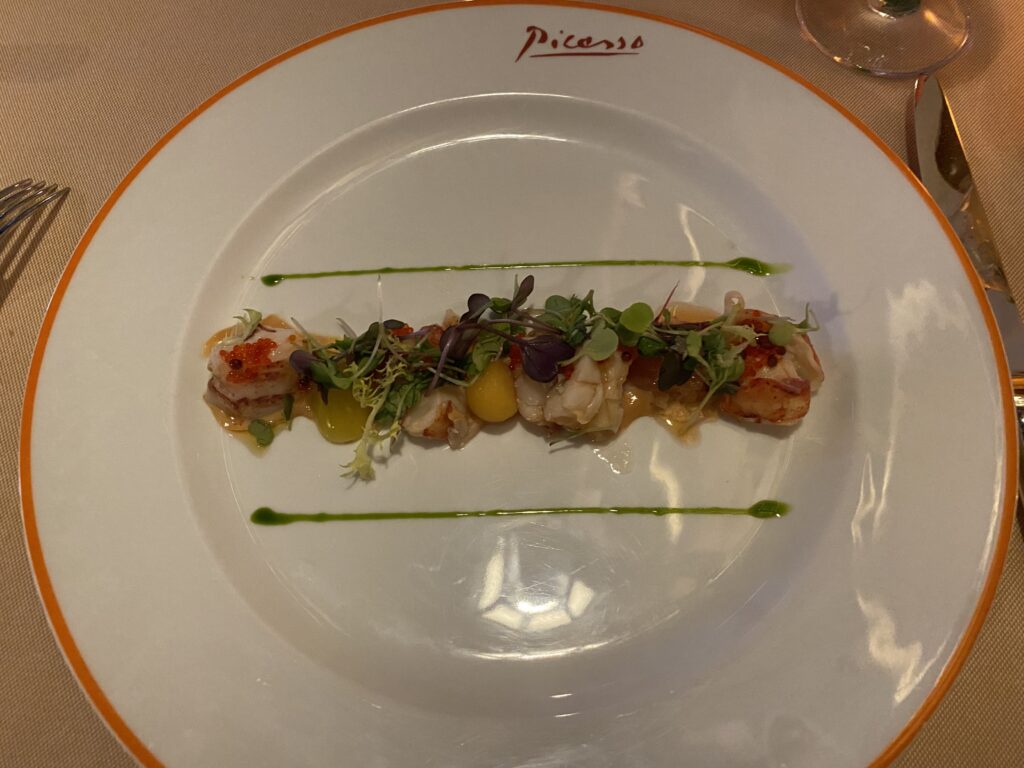 Dinner was delicious, yet, in Bellagio fashion, service far outshined the product. The full meal I'll dissect in a future piece, but do yourself a favor, and book something like this, even if it's not Picasso. You deserve something of this order; something that's significant and unlike what you'll get back home. Whatever it takes to sacrifice and save. Because, damn, this was worth it.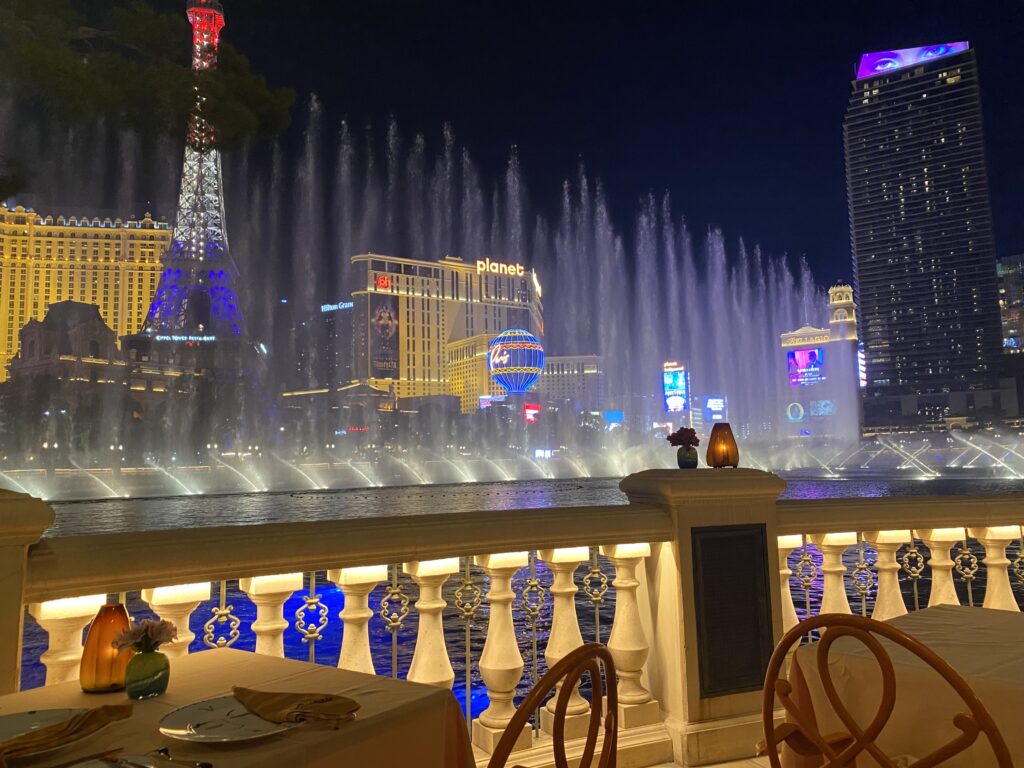 My wife was eager to get to sleep, so I met up with a high school friend who happened to be in town for a conference at Aria. The most notable thing about Aria is that there are few notable things about Aria. I love it. It's a beautiful casino. But it's unfortunately quite stale. Fine, yes, there are a couple of good restaurants, but the casino bars are painfully bland. Name one. You go three months without visiting and you can't. They could rename their casino bars every quarter and I wouldn't know. I had a great time playing VP and sharing drinks at a bar whose name I've long forgotten. Thanks for the great chat, Danny.
Morning gambling
I didn't do much gambling while my wife was in town. She had a massage booked at Bellagio, so I took that time to walk the floor, try my hand at a few slots, which isn't my normal game, and played a few hands of video poker. Slots actually treated me well. No, I didn't use any advanced strategies offered by online shills. I used $50 of myVegas freeplay to check out some new-to-me machines and enjoy a few bonus rounds.
When my wife was finished, she asked how I did. I said, "I'm actually up." She asked why I said "actually". I should choose my words more carefully. She noted that her massage was good, but she thought the spa and fitness facility at Resorts World are much nicer than Bellagio.
Strip walk
Going back to edit this piece I've realized this heading sounds more perverse than it is.
My wife is a walker. It's what keeps her away from perfection. Though on this day I appreciated it. It's been far too long since my last visit, so I wanted to see as much as I could. We started our walk down to Mandalay Bay from Bellagio and I boringly regaled her with Vegas lore at each casino, which she graciously accepted as a necessary inconvenience in order for her to get her steps in.
Despite her general distaste for gambling, Vegas, and anything ostentatious, we both agree that South Strip, as it still leans in slightly to its 90's themed roots, holds up the playful Vegas vibe casual visitors are after. Those of us preoccupied with Vegas sometimes forget that South Strip, specifically NYNY, Luxor, and Excalibur, are quite spirited. They don't match the grandeur of modern resorts. But damn they can be downright fun. The cobblestone and side shops of NYNY and the stained glass at Excalibur are quirky. The atrium of Luxor is downright mesmerizing.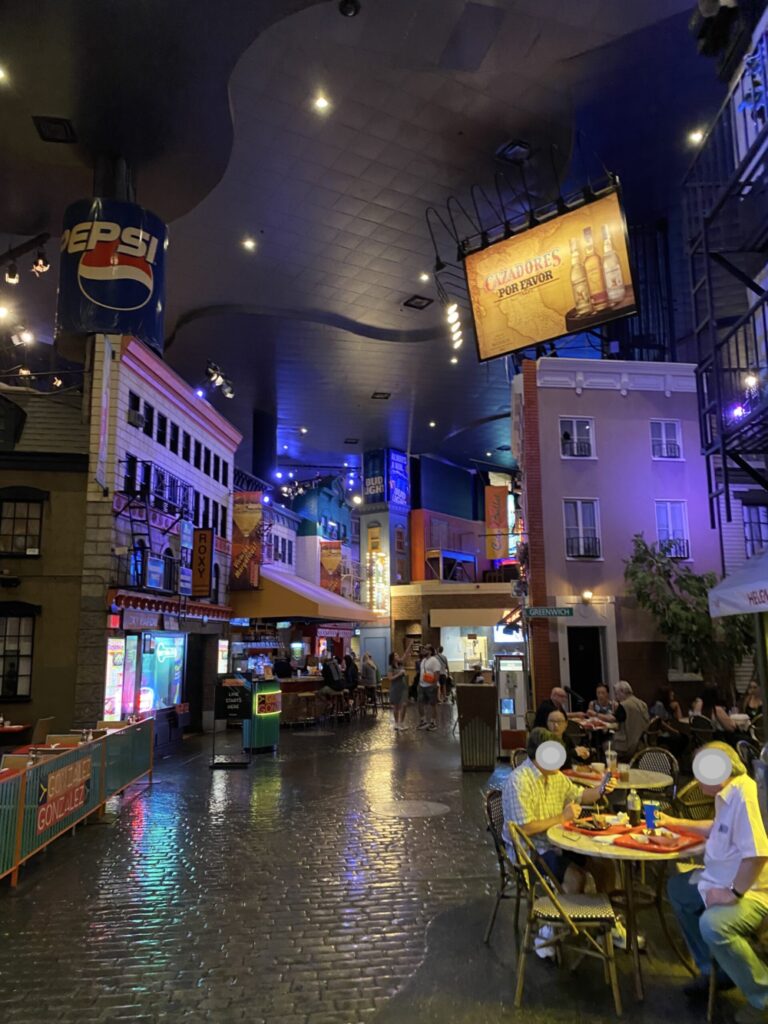 Jaleo, Cosmopolitan
Our third dinner was with Bethany (@bougiemiles) and her P2 at Jaleo. Once again, our company transcended our meal. This Spanish tapas restaurant is a great place for a meal with friends. If you're with people you trust, tapas is a fun way to go. We started with a selection of cheeses and then the gate was open. I can't recall the rest of our meal, but trust that Jaleo is a place you can count on if you're at Cosmo. The one downside of this dinner is the effect of introducing my wife to Bethany. I'm now Bethany's second favorite Bauer.
I believe this was the night it happened, so I'm going to enter it here. I was able to meet up with @turbulencetoo and @doublea at Juniper, the cocktail lounge just off the north end of the casino floor. The maple old-fashioned ($20) is exquisite, as was the company.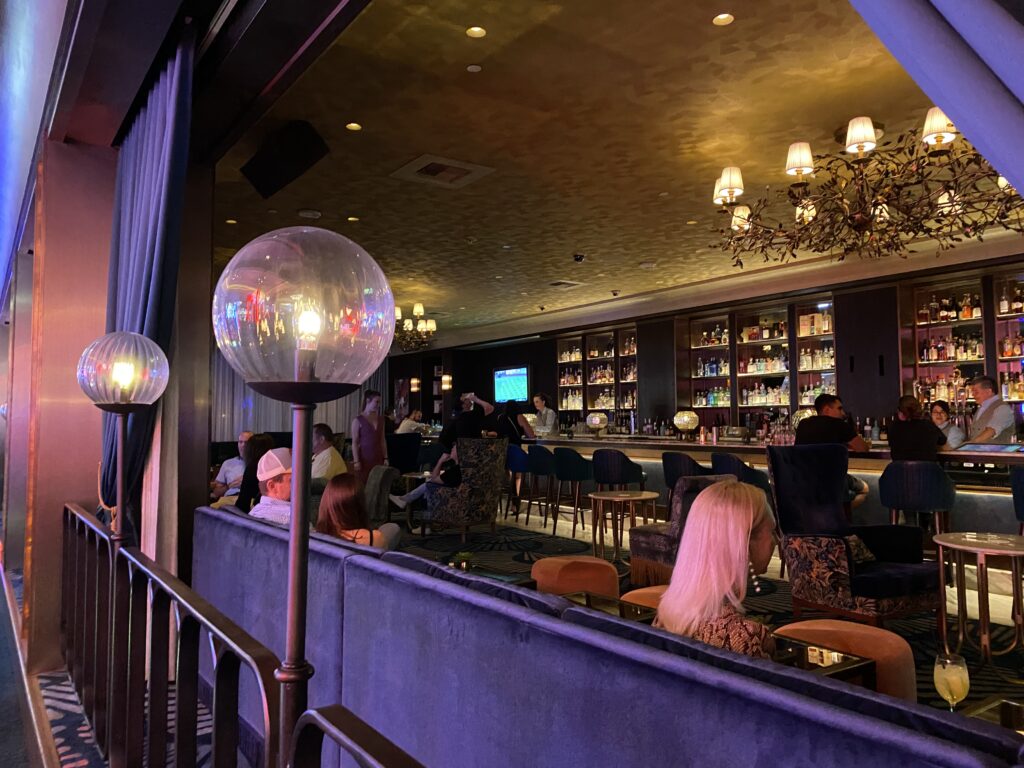 The night was still fairly young when we finished, but my wife had to get back to the room, needing some rest for an early flight out. I settled in for a quick VP session at Bellagio's Baccarat Bar. The payables were expectedly bad and drink service was slow, but the latter can be attributed to a packed house thanks to the conventioneers.
NoMad
My wife set off for home and I had one day on my own. Not wanting to waste time, I checked out of Bellagio in the late morning and set off for NoMad. Luckily, they had a room available and were able to check me in early.
I remain ambivalent about NoMad. I get what they're trying to do. The rooms are certainly unique to Vegas; they just don't resonate with me. It's themed without being playful. It's like I'm staying in an uppity Millennial's New York apartment. And what is going on with the hallways? How dark do they need to be? You'd think you were mid-ride at the Haunted Mansion attraction at Disney. I'm under 40 and the decor felt old, yet these annoyances make me feel old. You can understand how my opinion wavers.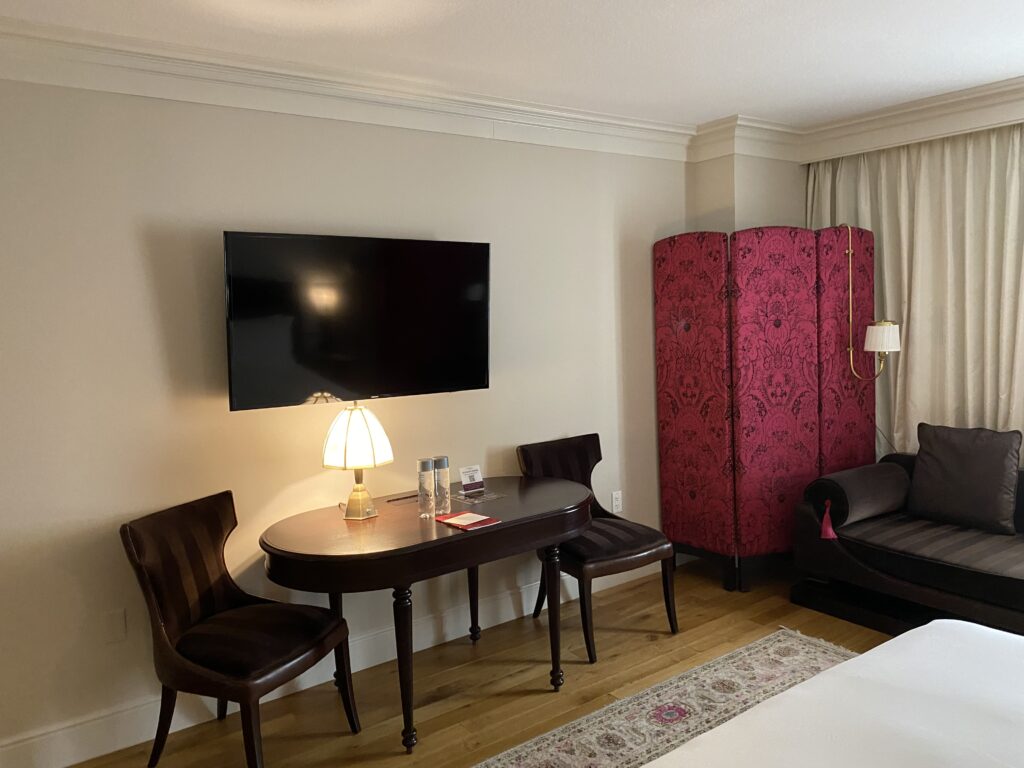 The casino, Park MGM, is wonderful. It's not a marvel, but it's smoke-free, the dealers are friendly, and it's bordered by some of the best bars and restaurants in the area. I'm a full-fledged fanboy. Neither NoMad nor Park will ever be my home base hotel, but if I'm staying center Strip, I imagine I'll be at the casino often.
Camels with friends
After checking out the room, I made my way down to the craps table to see if my shooting arm still had it. It doesn't. I was joined by @turbulencetoo again and we were soon whisked away by @jonemtp who took us to Palace Station for an off-Strip adventure. The sole stop on that adventure was Palace Station. Honestly, I could've helped us plan this out better. We had a quick lunch and hit the craps table. It was up and down, with no notable sequences. It was just fun shooting the dice with Vegas friends again.
We traversed over to Sahara because I had booked a room for the purposes of a review and, as coincidence would have it, John and Kristina Mehaffey of Vegas Advantage fame were out doing a survey and happened to be around.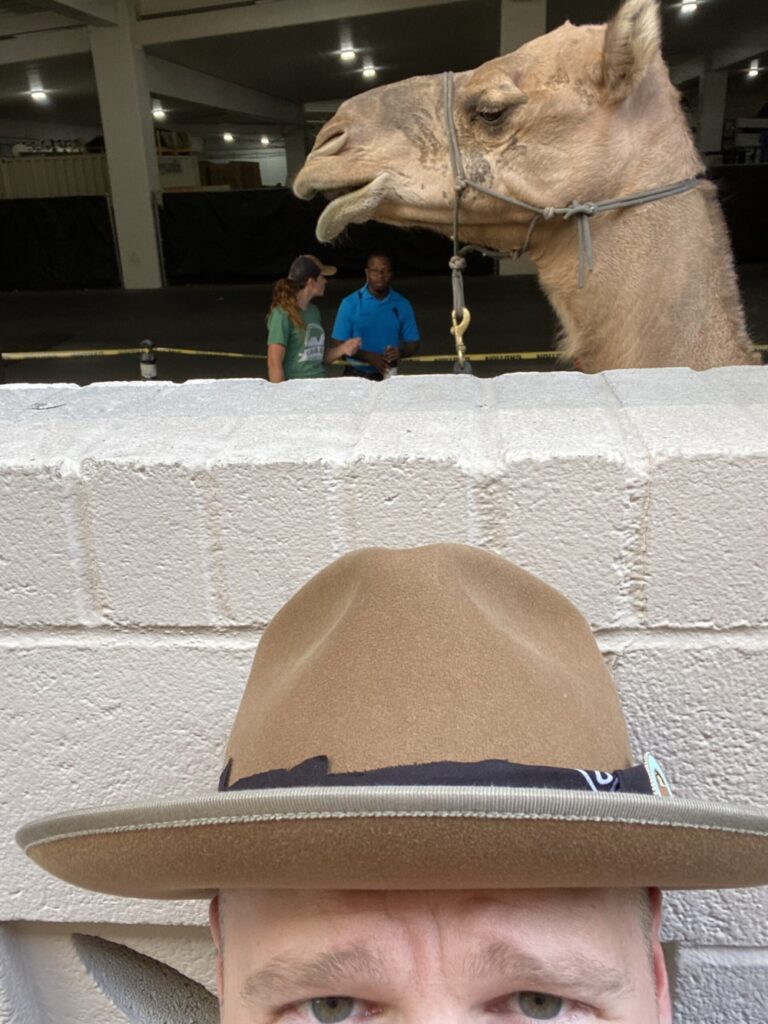 On our way in, we were greeted by camels. Apparently, they were filming a promotional shoot that day. They actually brought the camels inside. I'm not sure who cleared this idea, but those camels were not having it.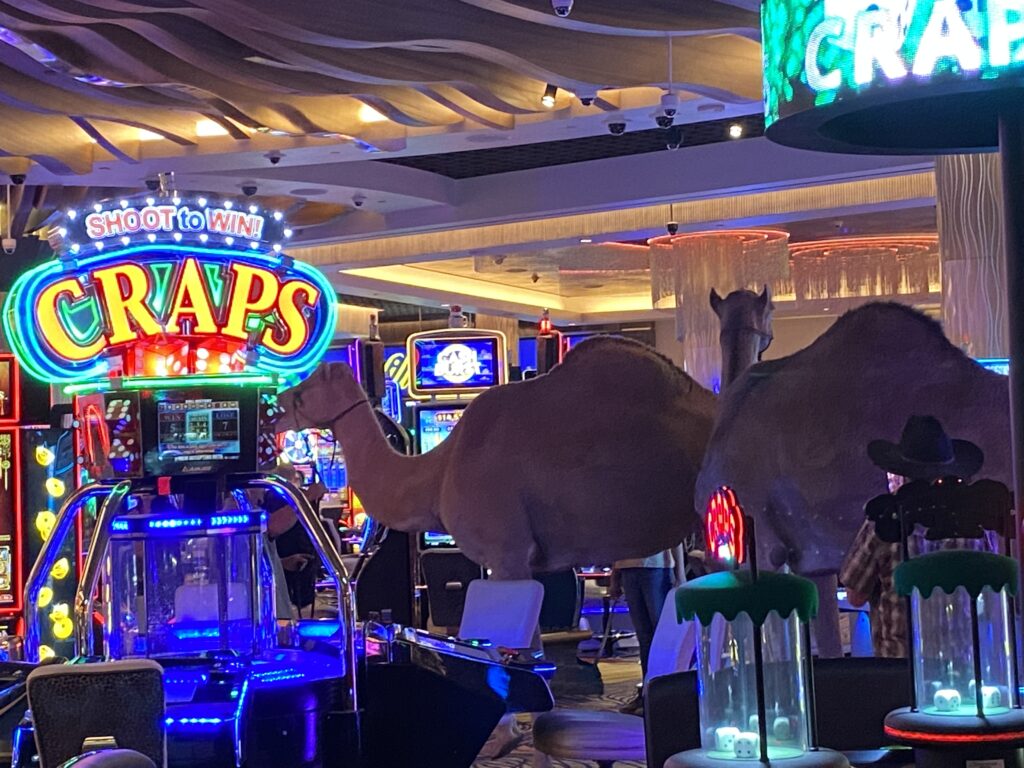 I went to check in and grab some pictures of the room before joining the group. The musty hallways reminded me of just how old this hotel is. However, they did a good job renovating it.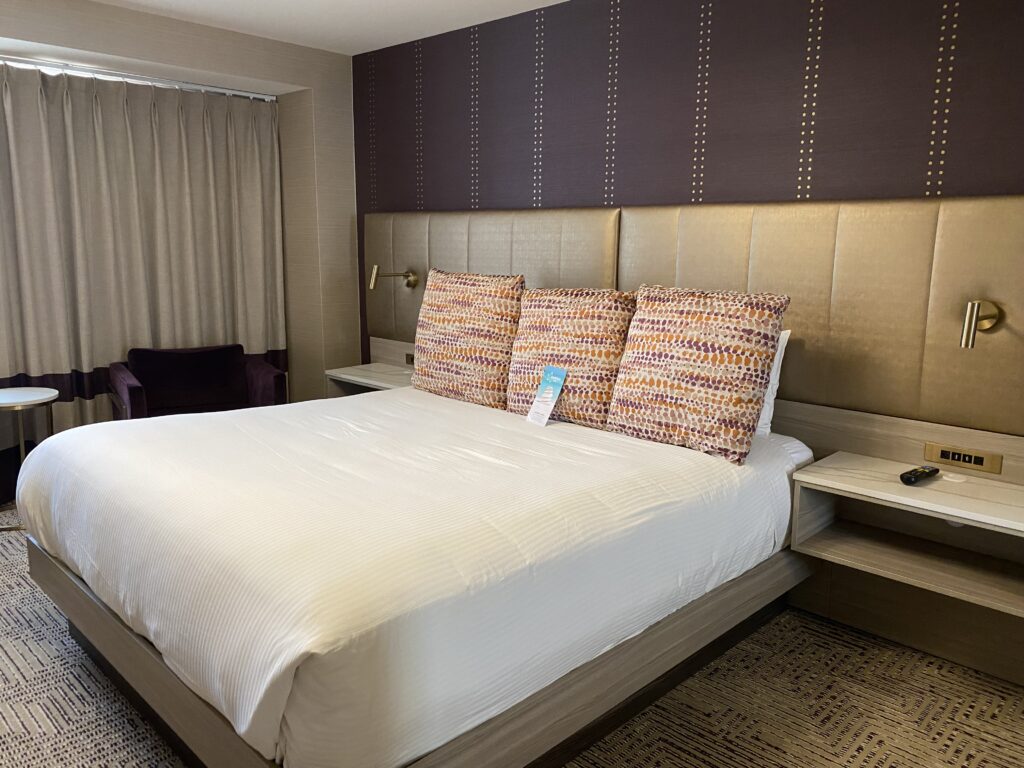 Sahara's strong point for me is that it's inexpensive, there's a monorail stop and it's a bit away from the rest of the Strip. That last point may seem odd, but let's be honest, Sahara would never be even in my top 5 of hotel choices. Though, say a big event is going on, a boxing match, a bowl game, or an F1 race, this could be a place worth considering if prices are outrageous at the usual favorites. Just take a look is all I'm saying.
I joined the crew down at Casbar when I was finished. It's a well-designed, comfortable lounge that's slightly elevated so you can see most of the casino. Yet again, the drinks and company were the highlights. They have an add-on for some of their cocktails for which you can take a photo on your phone and have it transposed onto the top of your drink. If there's something goofy you can do and it only costs a few extra bucks, we all know I'm going to do it.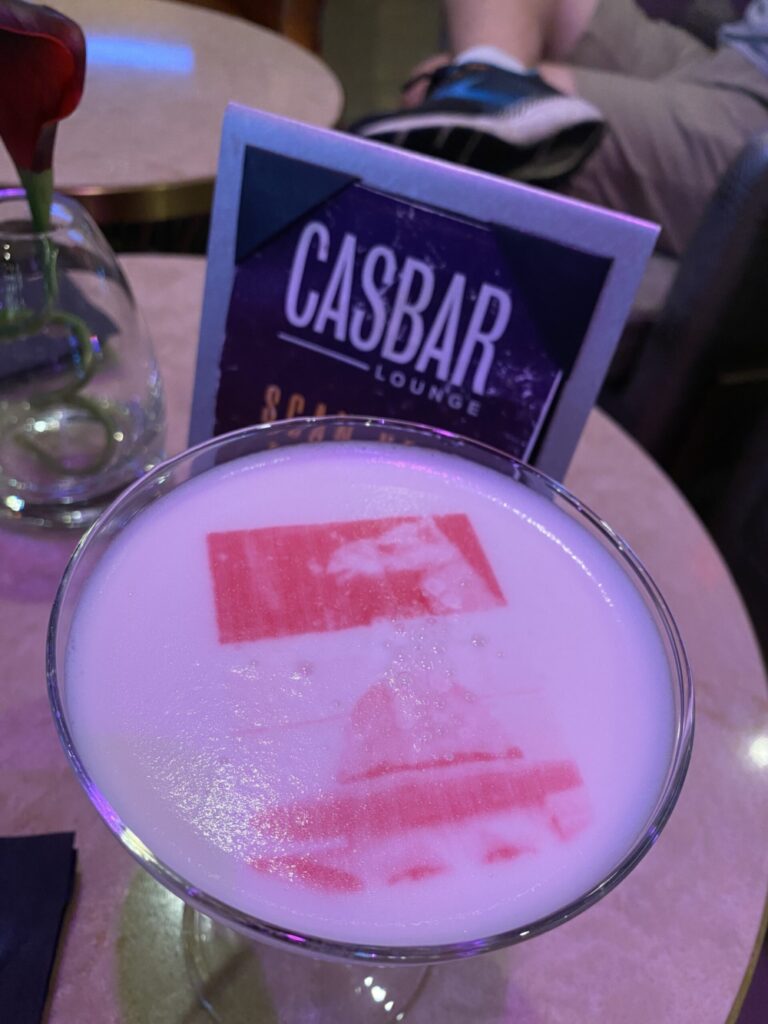 More Park fun
I was dropped back off at NoMad to freshen up and mosey around. I decided to do a solo dinner at Bavette's. My goodness. My only regret is that being native to the Chicago area, I haven't yet dined at the original, Chicago location yet. It's everything you'd want out for a meal full of meat. It has a classic steakhouse vibe, yet is unpretentious.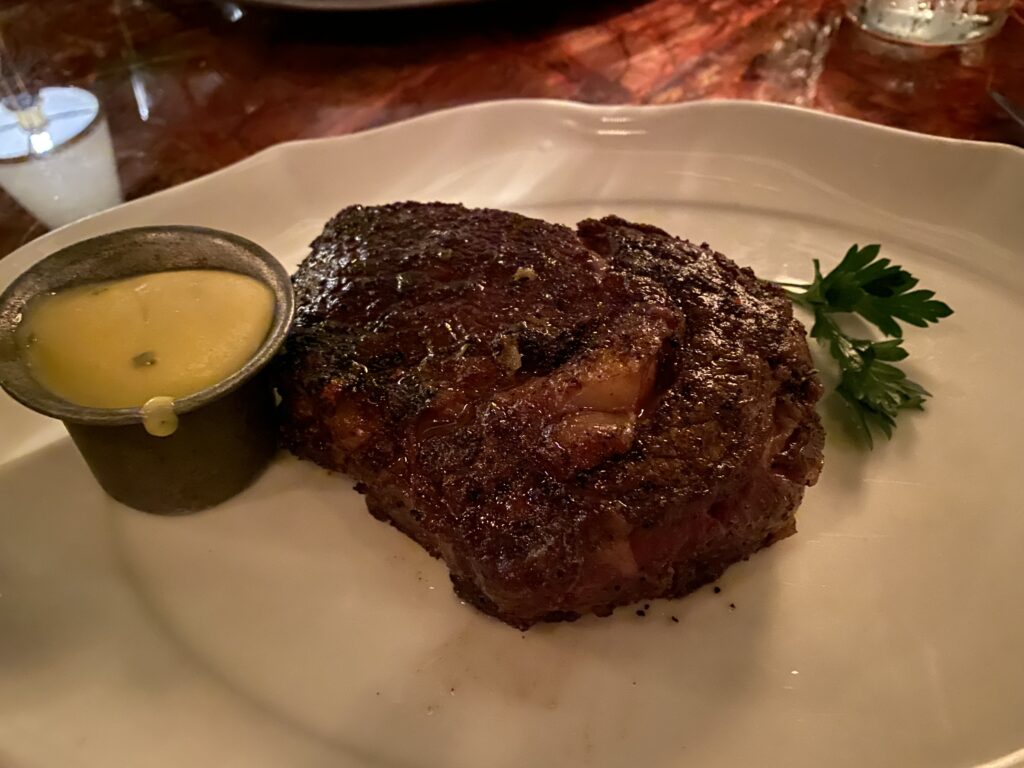 I sat at the square, center bar and enjoyed the classic ribeye, a side of bacon and a couple of old-fashioneds. I think I actually finally grew a couple of hairs on my chest after this meal.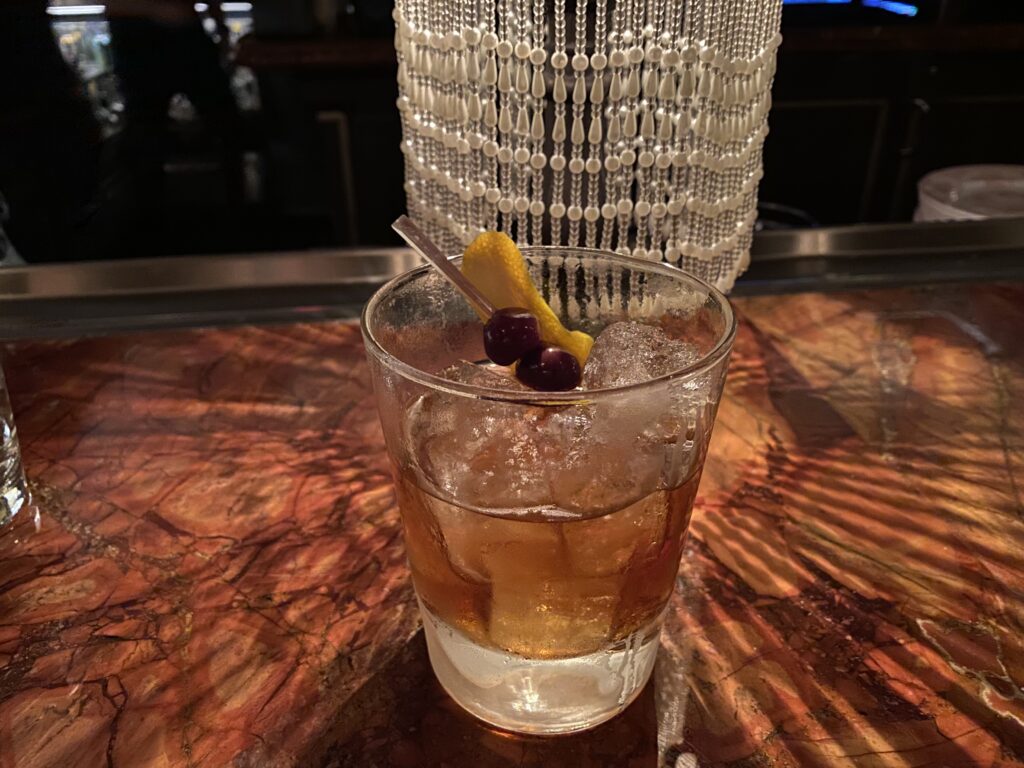 Things are still hazy for me on this timeline. I don't know if @turbulencetoo and I played craps before or after my dinner, but I'm pretty sure it was after. Again, no notable events apart from me stubbornly betting the tall, small, make'm all with reckless abandon. We got close. So close.
I looked to slow things down with some casual Super Times Pay at the bartop. As my time was coming to end, the gambling gods smiled down and dealt me a straight flush with the 2X multiplier active. I believe it's my biggest VP win yet, as the royal flush still eludes me. What a way to end it.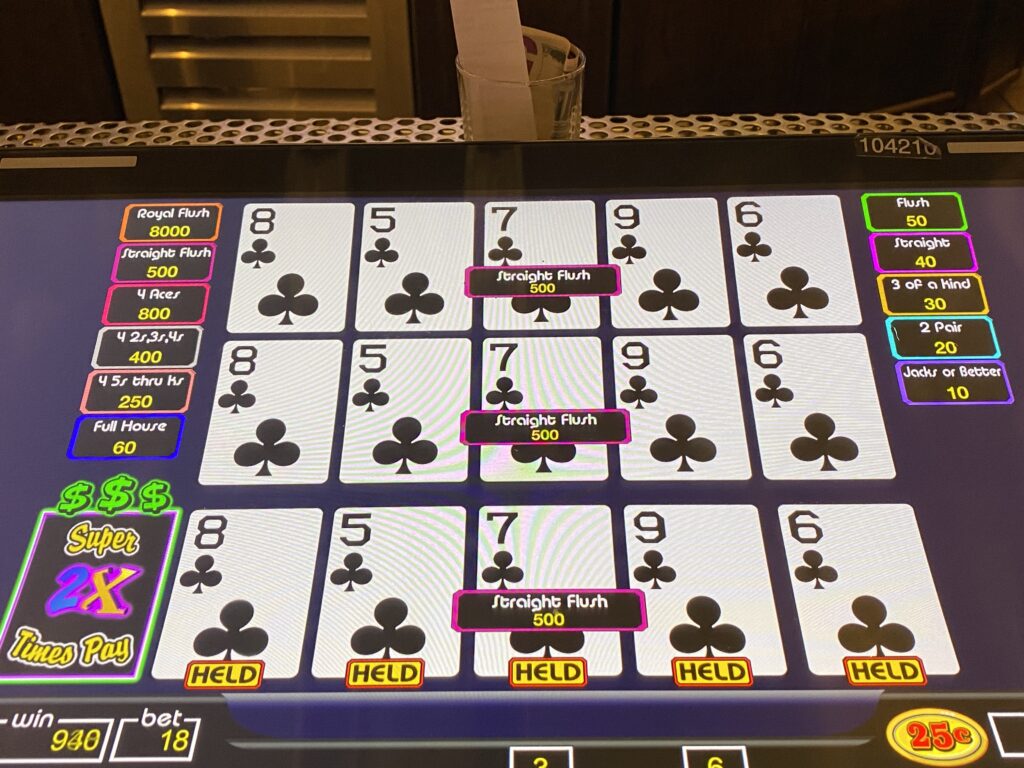 I appreciate everyone I got to spend time with on this trip. Seeing familiar faces in the places I enjoy, especially after being gone for so long, felt incredible. I'm also thankful for my wife, who's an extremely reluctant Vegas vacationer, yet suggested the trip as our first vacation away from our little one.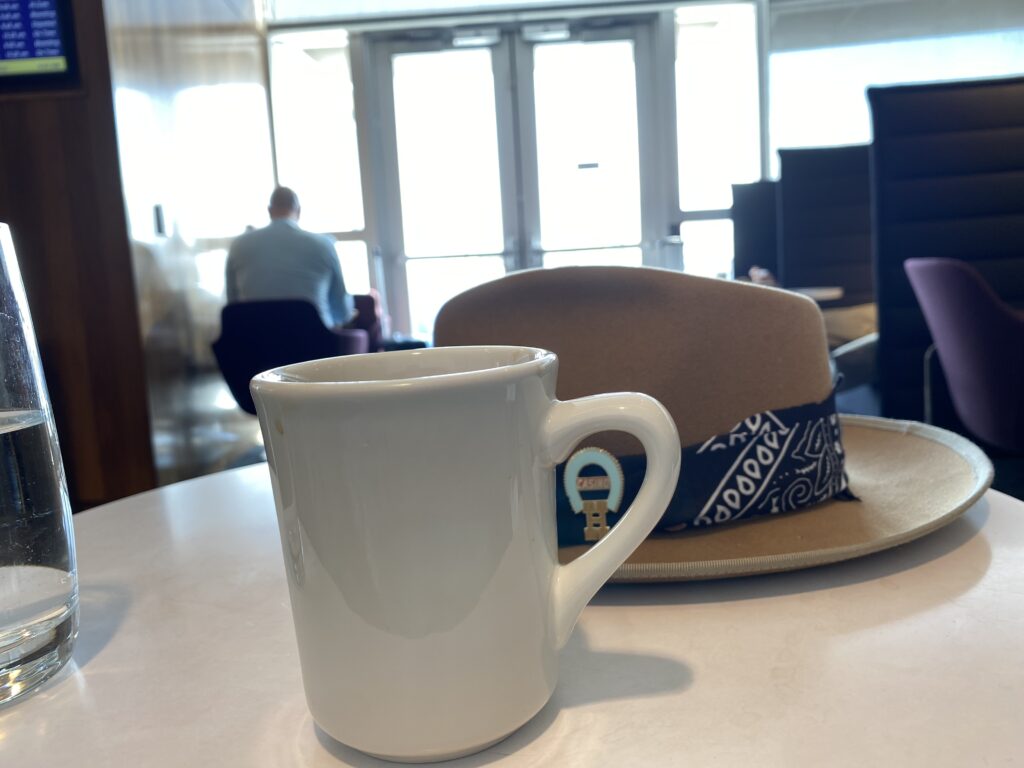 I dwelled on those sentiments as I luxuriously waited for my flight home in the LAS Centurion Lounge. Being an influencer and so adept at enjoying these comforts not available to most common folks allows me to take time and be mindful and appreciative of those around me and the trappings I deserve that really, if we're being honest, elevate me above your typical blogger.
Anyway, I importantly digress. It was a wonderful trip. I can't wait to get back. Thanks for reading.