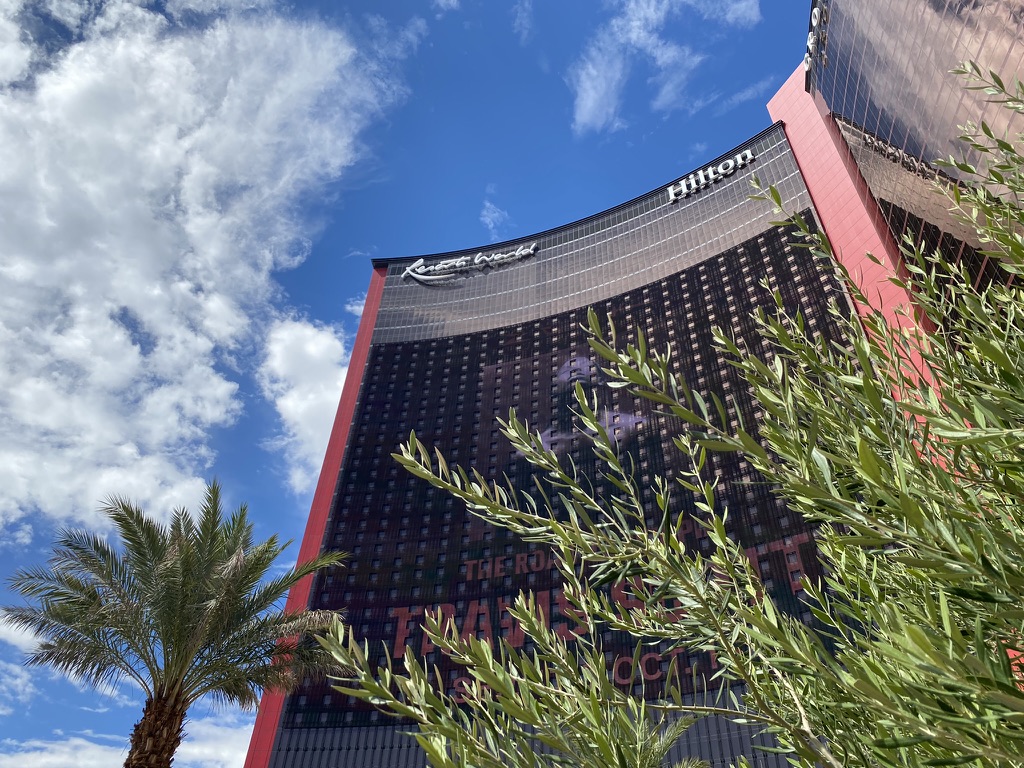 We were promised a lot when Resorts World Las Vegas was announced in 2013. Panda Exhibits, a walk through Chinese provinces of the past, a replica of the Great Wall of China. What we did get was a casino resort with subtle hints of Asian themes clashing with bits of suburban mall Americana.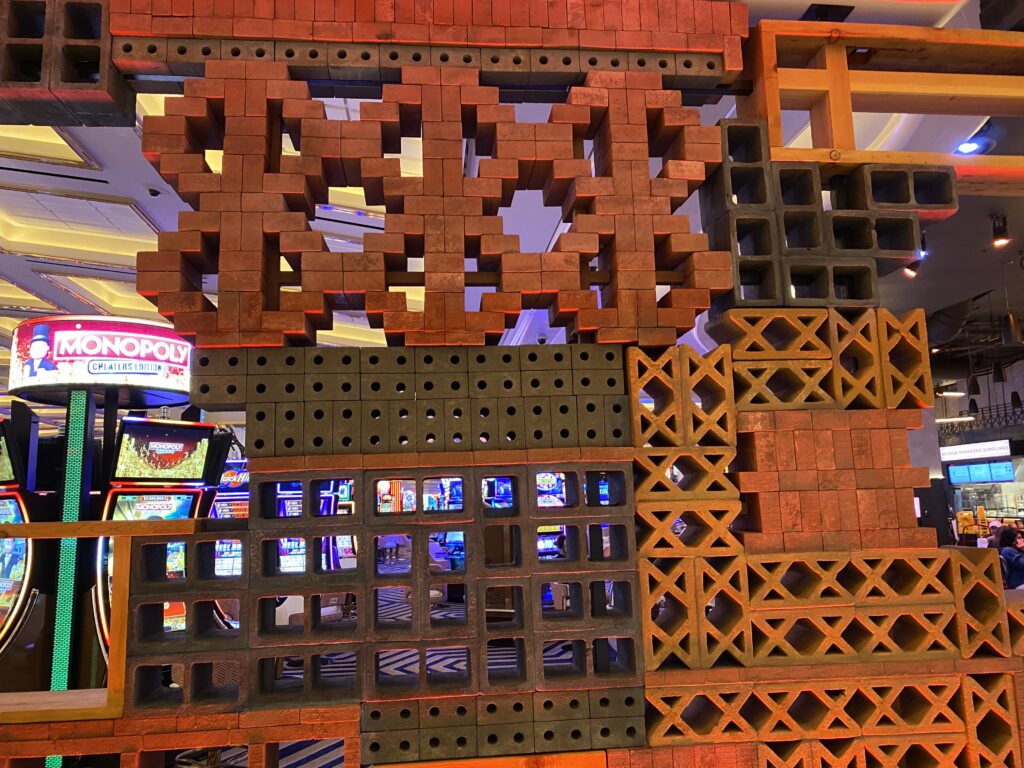 I don't fully appreciate the Wynn comparisons, or at least, the attempts by detractors to claim it's a poor attempt at a Wynn knockoff. No one in Vegas touches Wynn for its sophistication and beauty. I doubt that was or is their attempt.
Resorts World (RW) distances itself from its closest geographic competitor with three different hotel categories, Hilton, Conrad, and Crockfords, offering an option for every budget, unlike most resorts in Vegas. Because of the Hilton partnership, rooms can be reserved with points, making it an attractive option for those in the points and miles game.
Crockfords Strip View Superior Room
The gem of a Crockfords stay is the Crockfords lobby. It's especially grand with high ceilings and jade marble crawling up the columns, desks, and the dedicated lobby bar. It's one of the nicest check-in areas you'll find in Vegas. They tend to be slightly understaffed and even with a small crowd, it can take 20 minutes or more to fully check-in. If the bar is open, have your partner grab a welcome drink to pass the time.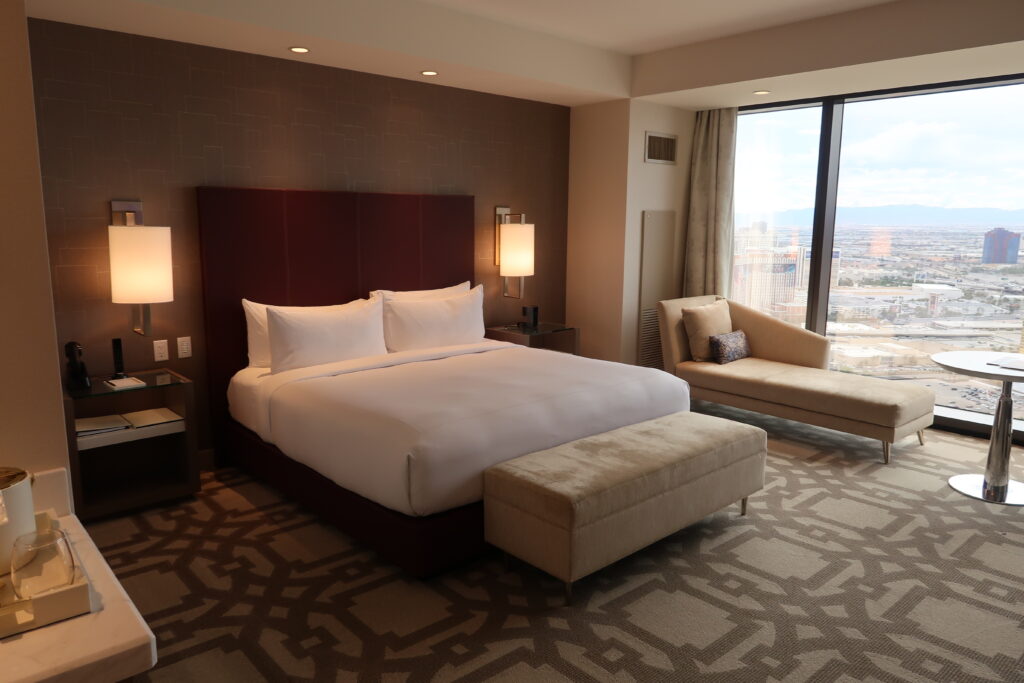 My wife and I stayed one night in the Crockfords Superior Room, which we booked using AMEX's Fine Hotels and Resorts program (FHR). I had a Platinum card at the time. It's a dumb, expensive card most travelers can do without. I'll probably sign up for it again in a couple of years.
The Crockfords Superior Room is the priciest and most sophisticated basic room of the three hotel towers to choose from. It offers a wonderful first impression with raised ceilings and large windows. Those sprawling windows revealed that I was far away from Vegas' core, the action-packed center of the Strip. I was happy to be in the room after a long morning of travel, yet I was reminded that I was in a virtually un-walkable resort desert.
Ok. Back to the room. I'm a fan of the purple, beige, and grey color scheme. It's safe for Vegas, but the gold accents and white marble give it enough of a punch to feel luxurious. With 550 sq. ft., there's plenty of space. For comparison, basic Conrad rooms are 550 sq. ft., as well, while the entry-level Hilton rooms are a more modest 400 sq. ft. But after more than a few minutes, I realized it felt a bit empty, like a couple upgraded to a new, bigger home but didn't yet have the furniture to match. The textiles, the patterns, the dressings, all appealing, yet, it just lacked something.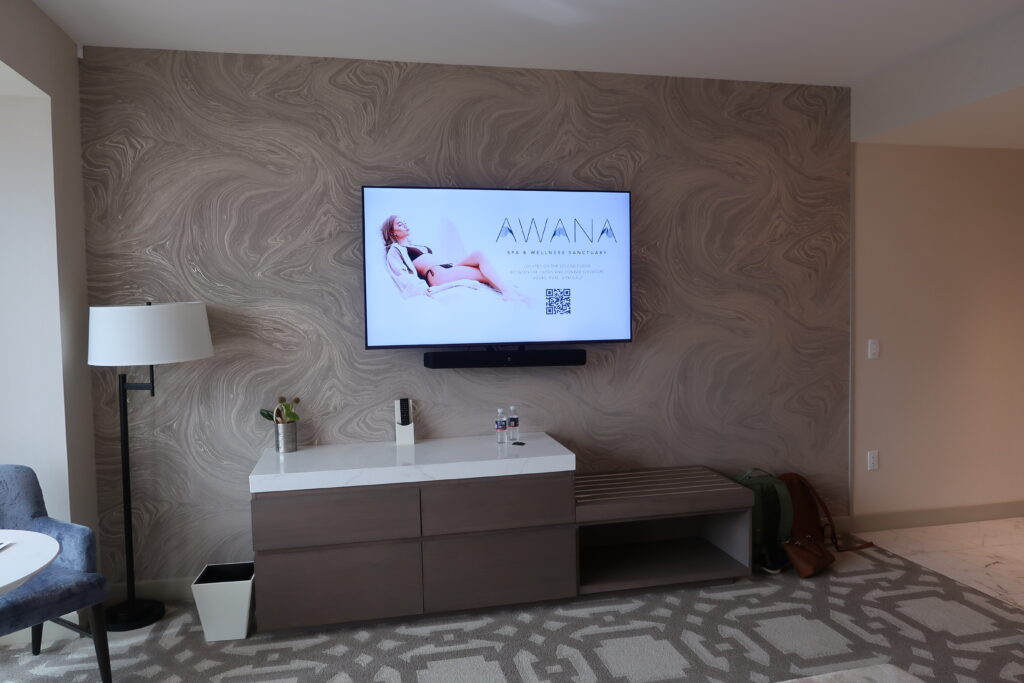 The bathroom is a missed opportunity. The porcelain and marble tiles match the entryway of the main room and line both the floor and walls. They're throwing marble at a design conundrum. It's too much marble; we need a different pattern. The toilet room and shower flank the double vanity. Notably absent is a tub. While not a big deal for me, some fans of luxury resorts may balk at a tub-less room. The shower's soap dispensers are a disappointment. The Crockfords experience is meant to feel personal and refined, but wall-mounted dispensers make me feel like I'm at a roadside motel. The whole space is a rushed afterthought.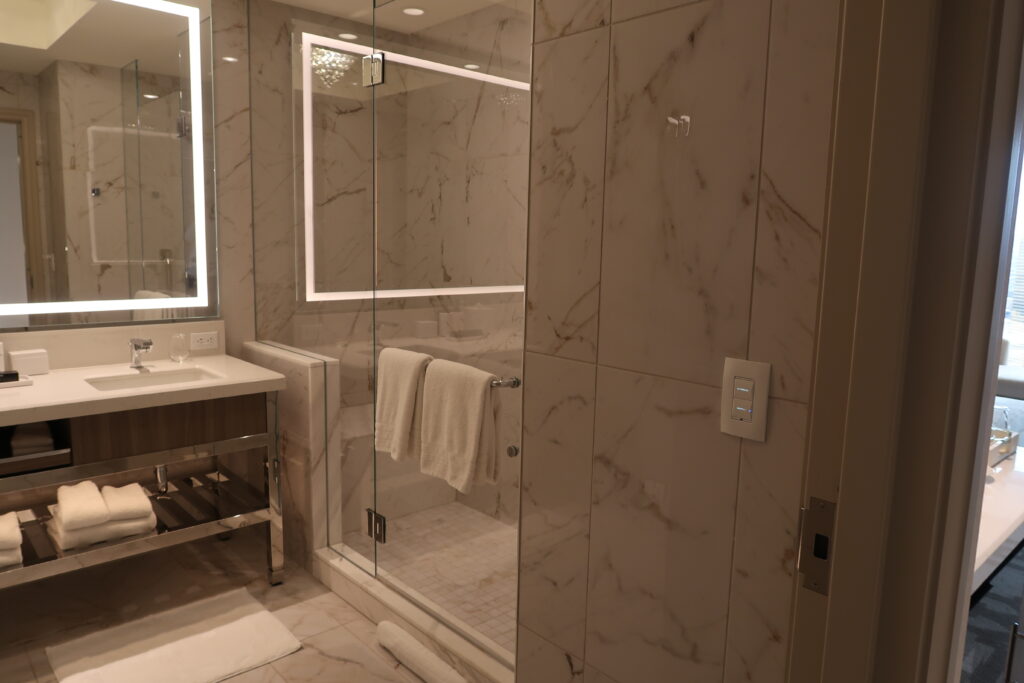 Without our FHR benefits included, we paid just under $400 for the one Saturday night stay. I had a $200 hotel credit from the Platinum card and FHR included a breakfast credit and a $100 resort perk, which we used to buy a nice bottle of wine from Wally's, half wine store half restaurant. Crockfords is pretty, to be sure, but if you want to knock Resorts World off your checklist, a basic Hilton room offers the best value, even if you sacrifice 150 sq. ft.
The Casino
The casino is bright, easy to navigate, and home to a pair of my favorite video poker bars, Crystal Bar and High Limit Bar. I've seen criticism of the multi-floor mall anchors the casino and houses some of the restaurants and bars, citing its sterility. I appreciate the argument, but malls in resorts don't tend to bother me. And if you're looking to avoid it, simply asked to be dropped off at the hotel entrance.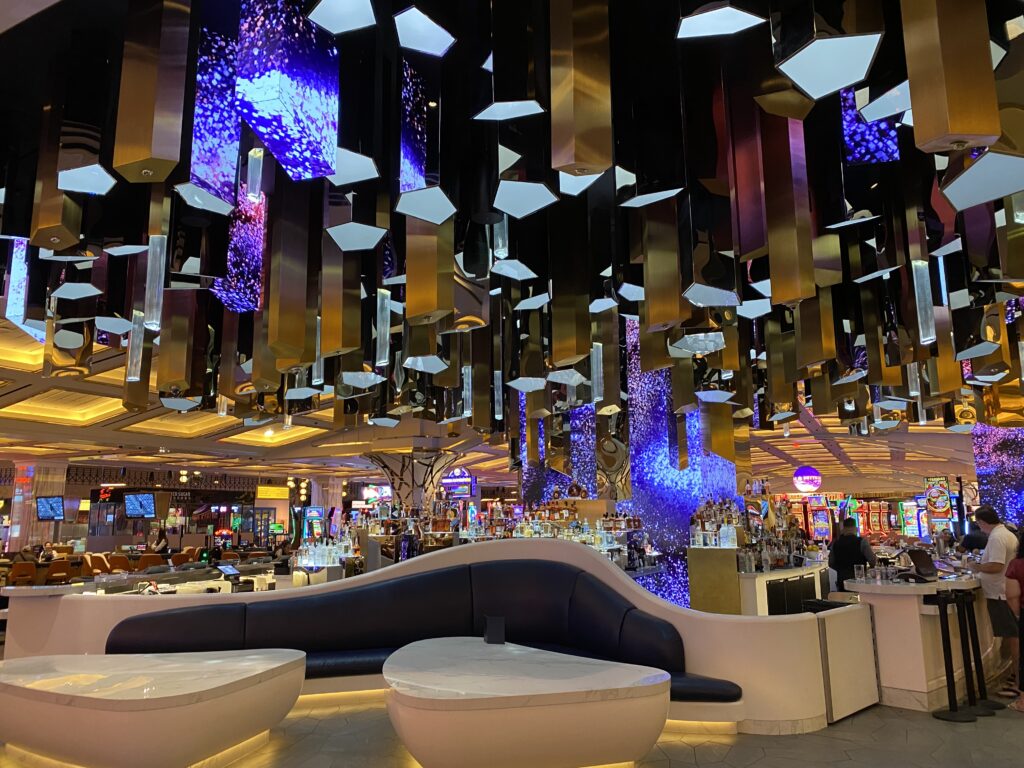 At times, table game limits match luxury casinos like Wynn and Encore, but until the early afternoon, even on weekends, you should be able to find table limits as low as $15 for craps. Though it's usually $25+ for most other games. This, however, is normal for a resort of this caliber up and down the Strip. The mostly empty gaming floor is more likely a consequence of the resort's location, not the quality of the casino. The vibe suffers because it's not crowded. But it's immaculately clean, dealers are friendly, and it has a wondrously beautiful and easily accessible high-limit room. I'm not much of a slot player, so I can't account for drink service for button mashers.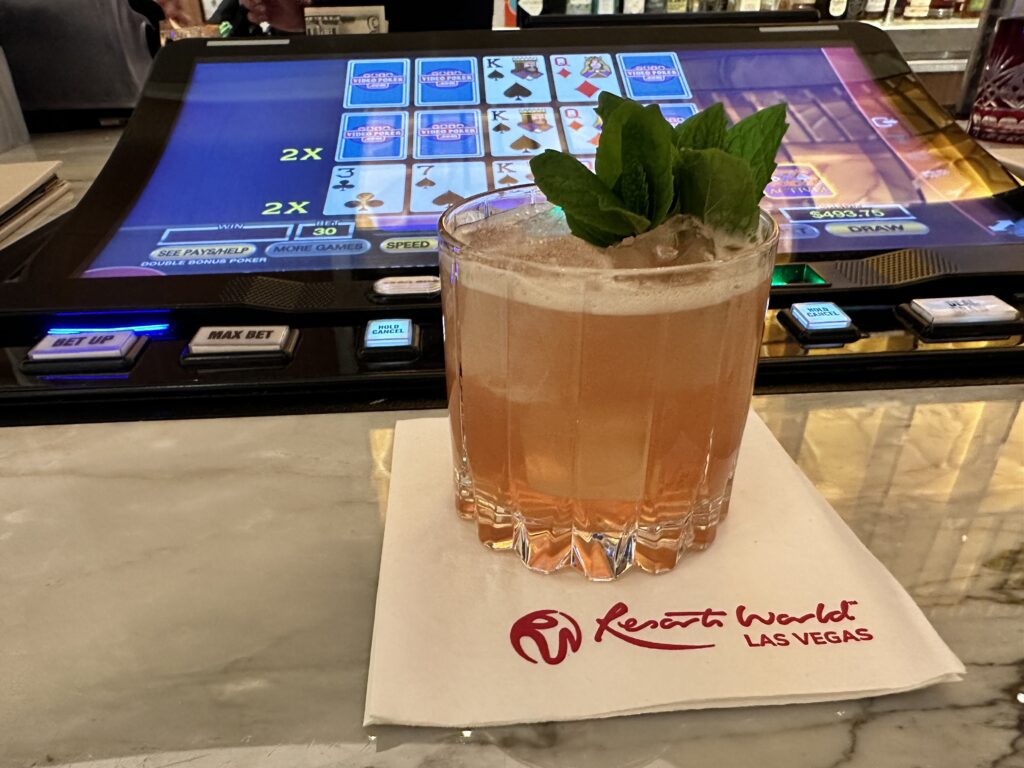 To give more gamblers a taste, they desperately need to punch up Genting Rewards, their player's program. New sign-ups who put through an even modest amount of coin should be given some quality marketing offers. Anecdotally, and from what others have shared, it seems to takes more to get room and freeplay offers from RW than big Vegas competitors like MGM and Caesars. Selfishly, I would like to see them be more aggressive for "medium" rollers.
The food
They have it. Our only full-service meal at RW was at The Kitchen. Yes, that's the name of their breakfast restaurant. We used our breakfast credits from FHR to cover most of the bill. It was lively, but service was quick and the food was well portioned. Breakfast is simple enough and even at around $20 a piece, I wouldn't feel ripped off paying cash out of pocket.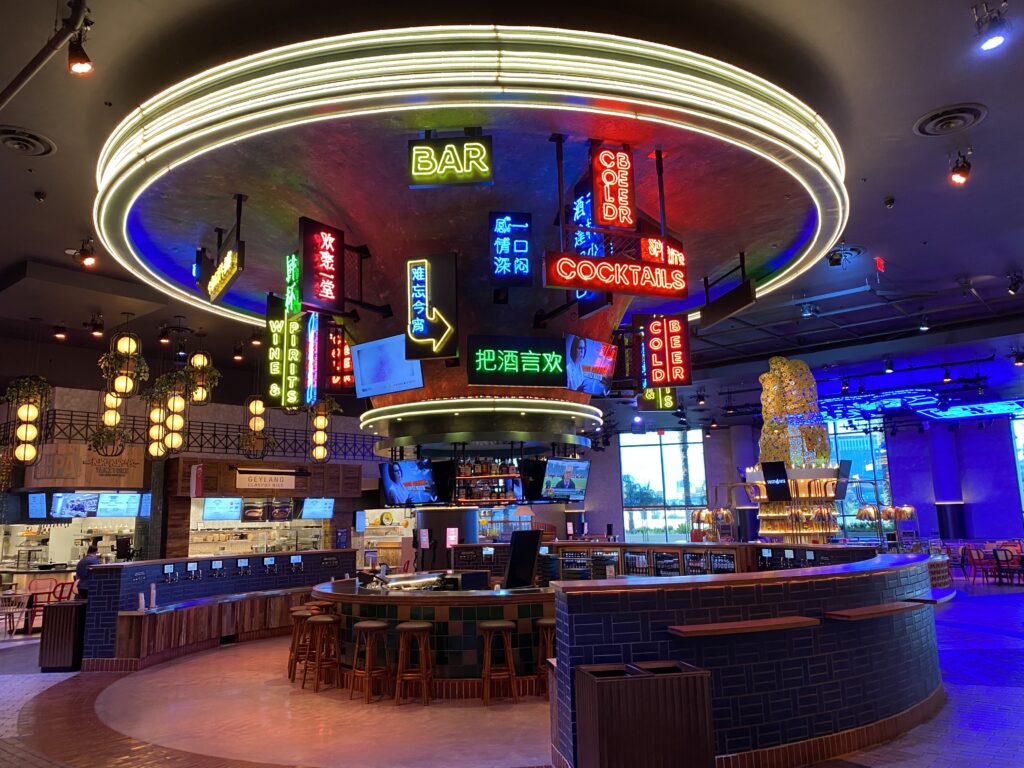 The casual food hall is a gambler's delight, no more Sbarro or Nathan's for quick game break snacks. I got a bao bun while we were waiting for our room to get ready. A quick, tasty snack. On a later visit, I had claypot rice from Geylang Claypot Rice during a break from video poker sessions. It was a perfect, filling late-night snack.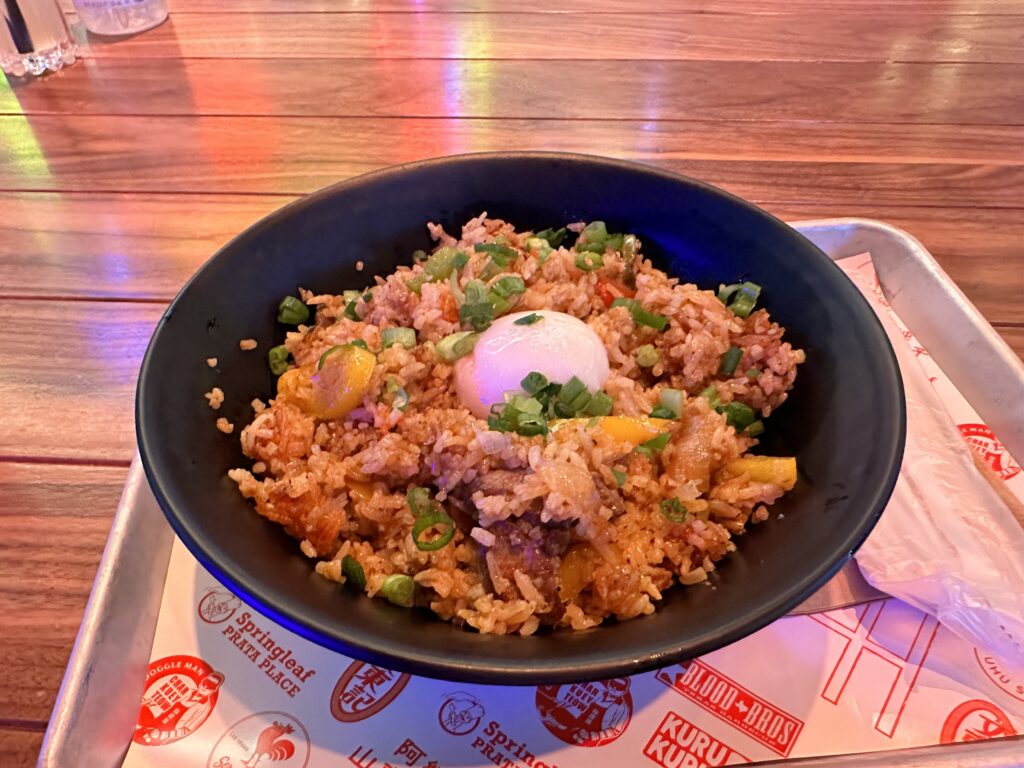 I'm sorry I can't be more thorough with food reviews here. Other restaurants in town beckoned and we were only visiting for the night.
The pool
What a bright spot. The pool has multiple sections and plenty of seating. They really need to advertise it better. It's a fantastic complex with an area for everyone. There's even a kid's pool. Yeah, kids sometimes go to Vegas. Get over it. We rented a cabana on our second day. Cabana rentals are usually around $1000, with half of that cost acting as a food and beverage minimum. Service was slow despite a minimal crowd. The good news is that there are TVs in the cabanas, so I was able to catch some football games and track my losing bets.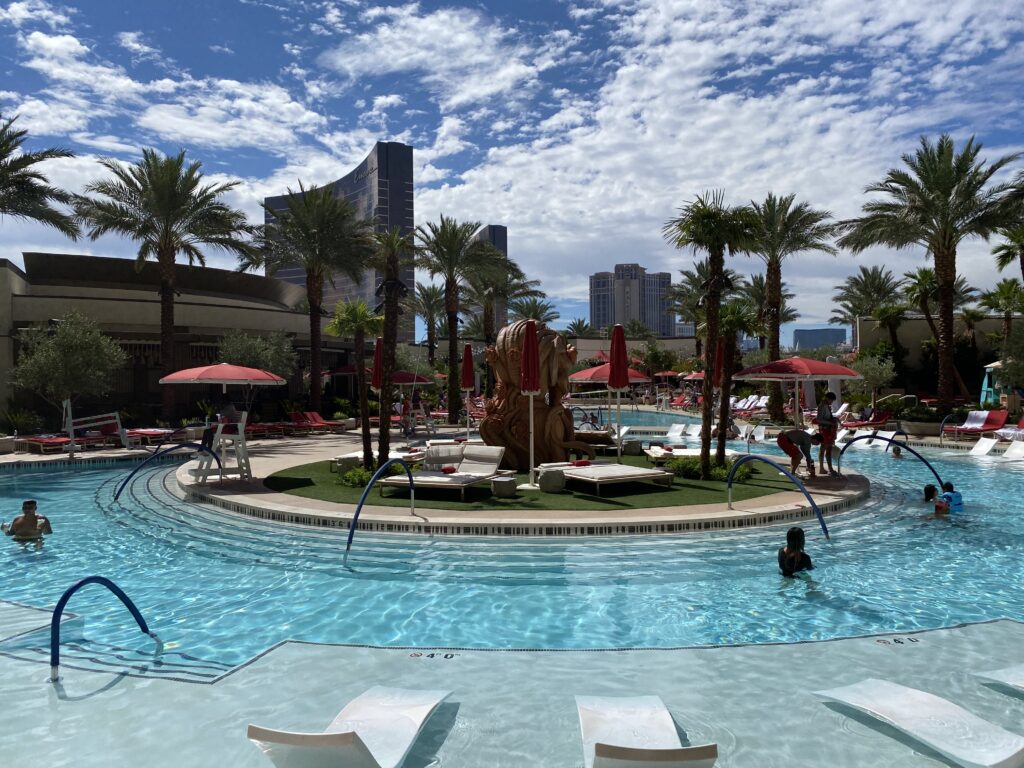 It's a polarizing place. There's lots to love and just as much to hate; a million diversions presented in the most boring way possible.

Vegas Snob
A quick pass-through may not be enough to appreciate some of Resorts World's finer moments. Though, these fine touchpoints just don't come together cohesively. In his review of Resorts World, Vegas Snob said, "Almost every resort I enjoy staying at has individual spaces that complement each other to create a whole greater than the sum of their parts." It's a perfect encapsulation of why some Vegas resorts just feel right, they never let you forget where you are. Resorts World isn't as scrupulous as some of its neighbors.
After my stay and subsequent visits, I've come to realize that I am Resorts World. I'm on an island unto myself. I'm unfairly judged against peers. I have a lot to offer that people just don't seem to appreciate. Yet, I'll have flashes of brilliance a select few debonair persons treasure. Though, sometimes, I'm empty inside.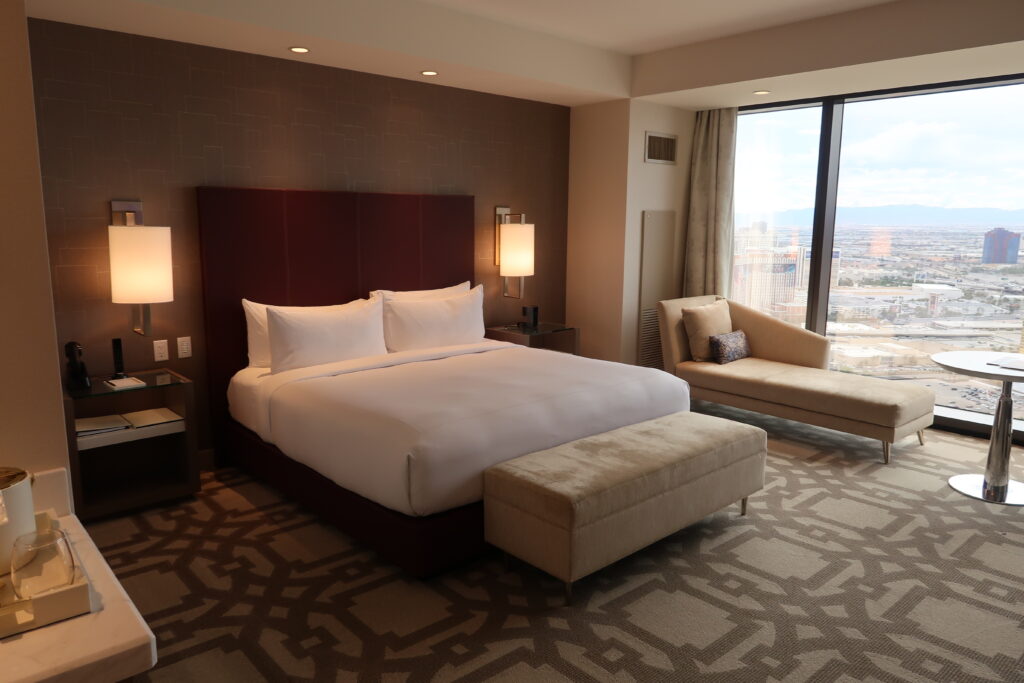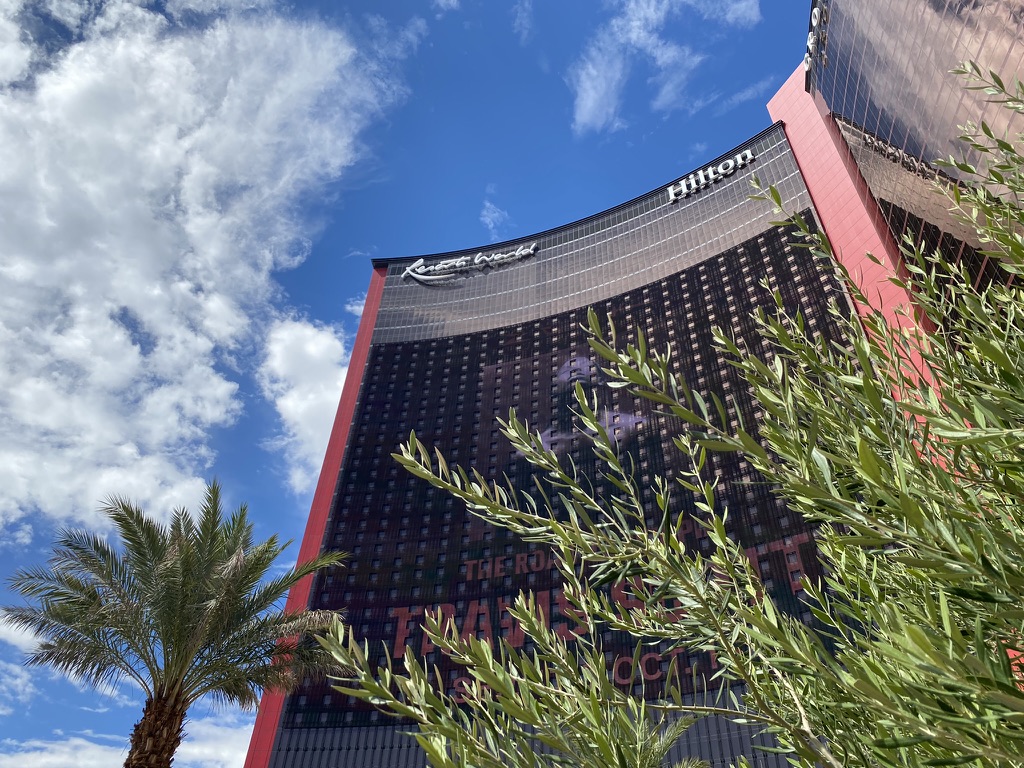 Resorts World Las Vegas: A Review
Muddled and Misunderstood
Video poker bars are the highlight if you don't mind the location.