Caesars Entertainment announced they will be renovating "the Jubilee Tower at Horseshoe Las Vegas and integrate it into Paris Las Vegas with a new name, Versailles Tower."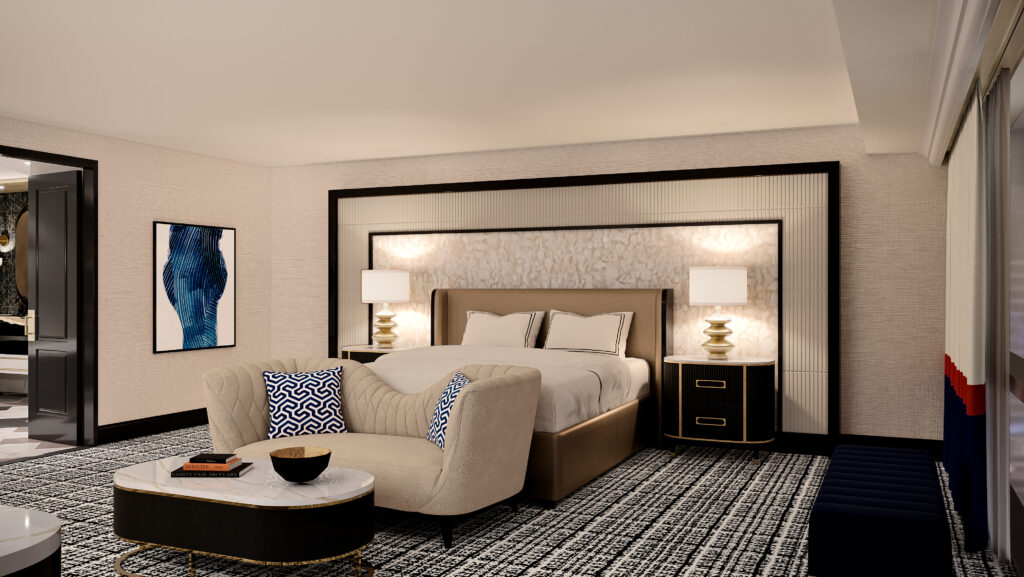 With the $100 million renovation, it would seem natural and fun to play into a Palace of Versailles theme. What is now a world heritage site, the former residence of royalty is known for ornate embellishments and as a "centre of artistic creation." The Palace has a history of being almost ostentatious in ornamentation and was, quite possibly, one of the most beautiful gambling dens to win or lose a fortune.
Yet, the designers of the new Versailles Tower in Las Vegas seem more interested in paying homage to Pottery Barn than the Palace. The Palace grounds offer an abundance of inspiration, from The Hall of Mirrors to The Garden Room, but guests in Las Vegas will apparently be paying a high price to stay at a public access version of Wynn.
The new tower and rooms are an extension of a themed resort. A wonderfully themed resort at that. And they have a blank canvas to extend that playfulness elegantly. I have no data to support this assertion, yet I'll state it anyway: People are clamoring for well-executed themed resorts. Perhaps design firms see them as kitsch, not appreciating that fun can still be taken seriously.
Even the world's brightest minds of hotel design appreciate the merits of architecture as entertainment. Todd-Avery Lenahan is the President and Chief Creative Officer of Wynn Design and Development and a favorite designer among hotel-obsessed Vegas aficionados. His work at Wynn was preceded by working in design and architecture with Walt Disney Imagineering. After Disney, Lenahan formed his own studio, ABA. When Disney's Animal Kingdom Lodge was being "imagined", ABA was asked to design the interiors. In his book "Places", Lenahan describes the seriousness of theming, Disney theming specifically, when tasked with the Animal Kingdom Lodge:
We're consistently amazed by people who speak derisively of anything they view as themed pastiche to be Disney-like in nature. What's often misunderstood about Disney's approach to design is that it is an intensely researched, intelligent, superbly executed, and immersive storytelling experience within a carefully conceived set of fully controlled parameters. It is literally like movie-making, which is the origin of the Walt Disney Company.
Thematic design can still be smart, respectable, and beautiful. Though, Given Lanahan's perspective, perhaps I should just be thankful the designers aren't even trying. The team spearheading this renovation, Klai Juba Wald, is a known entity across the Las Vegas Valley, with its fingerprints on major resorts like Mandalay Bay, Luxor, and MGM Grand. It's not an easy task to theme well, but if they want to, they need to throw this mundane, bland crap in the bin, get back to the studio, and present something with a little panache.