This review is to touch on the finer points of having and using the MGM Rewards Mastercard. For a full breakdown, check out Bethany Walsh's full MGM card review on Bougie Miles.
---
The MGM Rewards Mastercard is sleek and flashy. But in keeping with its Vegas theme, it's a facade fronting a mediocre credit product for even the most ardent of MGM visitors. Although some of the perks may sound appealing, you'll find that the mediocre earnings, a shoddy bank interface, and manual redemptions make this a credit card to avoid.
Card overview
MGM's free credit card has a rewards rate of 3x "points" and Tier Credits on MGM purchases (1 point and 1 Tier Credit for every $1 spent). Cardholders can get 2x points on gas and supermarket purchases and 1 point on everything else. Gas and supermarkets being the only non-MGM bonus categories feels out of place for a card that may be geared toward travelers. Then again, I trust they know their target market better than I do; this could be a play for locals.
Two perks keep this card from being a disaster. Free parking is a benefit of the automatic Pearl Status granted to cardholders. If you're a Vegas local driving to the Strip frequently, it can provide some value. The other is that, as stated before, you earn Tier Credits with every purchase. So you have the ability to generate status on credit card spend. MGM Gold "light" members, those who tier match into the program, still get their resort fees waived when a room is booked directly and have dedicated lines for check in. The $100 yearly dining credit is granted to those who amass 75,000 tier credits. Those "true" Gold members. Depending on how many tier credits you'd naturally receive through play and spend at MGM properties the opportunity cost of reaching for status through spend could be severe. Putting thousands on a credit product that's hyper-focused on select destinations and credits with limited use cases typically isn't the optimal strategy. Then again, I've been known to do this very thing.
The MGM Rewards Mastercard will usually have some sort of sign-on bonus of extra points if you hit a certain amount of spend in the first quarter. When I applied, it was 25,000 points ($250), the highest I had ever seen. 10,000 seems to be the norm.
FNBO platform
The MGM Rewards credit card is issued by First National Bank of Omaha (FNBO), who brings a clunky interface with broken links and mislabeled transactions.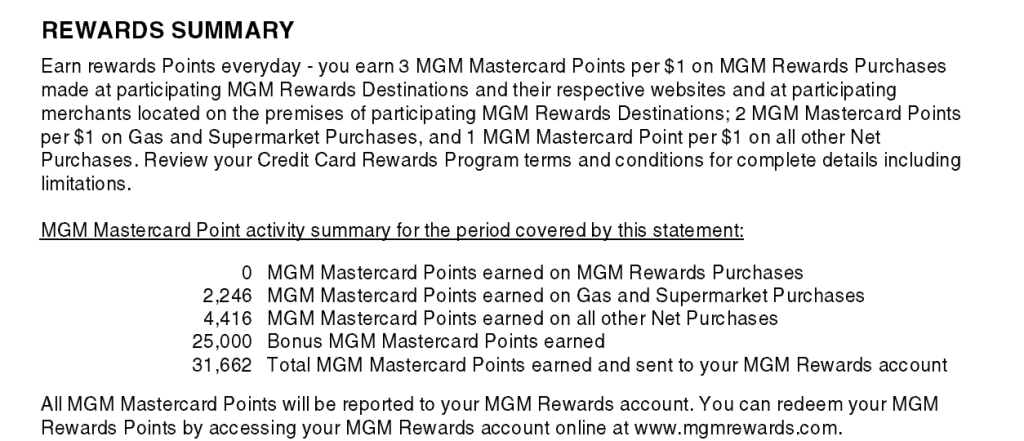 As you can see from the image above, I earned 2246 "MGM Mastercard Points". I know I spent $0 in gas during this statement period, but I had a number of transactions that may qualify as supermarket purchases, but my dashboard doesn't actually note a supermarket or grocery category. Anything I would argue for as a grocery purchase, FNBO lists as "Everyday Spending". I suspect they're counting some restaurants or local food delivery as supermarket spending. Napkin arithmetic hasn't given me any clues as to where these rogue grocery points are coming from. I'll score this as an unexpected win in my favor. Certainly not something I'm used to when it comes to casinos.
Points deposited as Slot Play
The most confusing aspect of this card is the fact that "MGM Mastercard Points" don't really exist. The Summary of Credit Terms states they're what you earn with the card, but nothing actually shows up in your FNBO account online. Instead, your earned Tier Credits are deposited directly into your MGM Rewards account. So too do the other points you earn with the card. But you don't get a choice as to what kind of points you're earning or where they're deposited. Points you earn from the MGM credit card are automatically rewarded and deposited as Slot Dollars. You can turn those Slot Dollars into Rewards Points, but you have to go to an MGM Rewards desk to do so.

To be fair, this is mentioned in the FAQ section on the card page:

MGM Mastercard Points may be redeemed for Slot Dollars or MGM Rewards Points. You can redeem MGM Mastercard Points for MGM Rewards Points by visiting the MGM Rewards desk.
However, this isn't intuitive on the platform. Their marketing copy, and the simple act of calling them "MGM Mastercard Points", seems to imply you'll have some control on their path to your MGM Rewards account. You don't for now.

My Rewards Points balance in my FNBO account has remained at 0 since I've had the card, though my Slot Dollars and Tier Credits have increased as expected.
Who is this card for?
I suppose if you're an MGM fanboy who gets dreadfully close to the next status and needs a tier credit boost, whatever that's worth to you, perhaps this is the card for you. Or if you're a local who doesn't mind adding a free card to their portfolio just for some free parking.
For most others, there are a number of other alternatives that may better suit you, especially if you don't mind a modest annual fee. The World of Hyatt credit card is a solid choice. It has a $95 annual fee, usually a big enough sign-on bonus to cover a couple nights at MGM hotels in Vegas, and automatic Hyatt Discoverist status, which can be matched to MGM's Pearl. Really, any flexible bank card with travel perks and bonuses can work too, like the Chase Sapphire Preferred or Capital One Venture.
It's tempting to pinpoint where you like to stay and play and get the accompanying card to supplement. But casino cards betray the tenor of the businesses that bear their name. They tend to be bland, poorly executed products. The MGM Rewards Mastercard is no exception.
Clunker
It's free, but has limited utility and too many relevant competitors.
No annual fee
Automatic Pearl Status
Earns Tier Credits with spend
Mastercard Travel and Lifestyle eligible
Clunky bank platform
Points deposited as Slot Dollars
Earnings categories limited